Gratkowski/Brown/Winant Trio
Frank Gratkowski, clarinet, bass clarinet, alto sax
Chris Brown, piano and live electronics

William Winant, vibraphone and percussion
The Gratkowski/Brown/Winant was founded in 2006. All three musicians are known worldwide in the field of contemporary classical music, jazz, and improvisation. The main interest of the trio is the process of instant composing, since all three musicians have extensive backgrounds in composition and improvisation and are able to compose pieces with a clear inner structure collectively on the fly. In their performances the listening audience can attend to the process of the creation of new music.
Besides clarinets, saxophone, piano and vibraphone, the trio also is characterized by live processed interactive electronics and classical percussion instruments like gongs, tam-tams, bells and tympani. Extended techniques and electronic transformations creates a sound-world which it can be hard to tell who is playing what. Its first CD "Wake" was released in December 2008 on the Montreal-based label Red Toucan Records. In 2009 the trio performed at the Donaueschinger Musiktage in Germany, one of the oldest and most important festivals in the world for contemporary music. Their double-CD Vermilion Traces documenting this performance along with a recording at the famed SWR radio studio in Baden-Baden is available on Leo Records.
---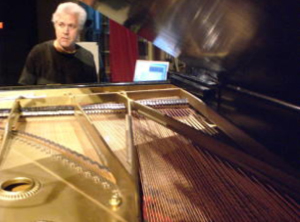 Chris Brown, composer, pianist, and electronic musician, creates music for acoustic instruments with interactive electronics, for computer networks, and for improvising ensembles. Collaboration and improvisation are consistent themes in his work, as well as the invention and performance of new electronic instruments. These range from electro-acoustic instruments ("Gazamba", 1982), to acoustic instrument transformation systems ("Lava", 1992), and audience interactive FM radio installations ("Transmissions", 2004, with Guillermo Galindo). As a performer he has recorded music by Henry Cowell, Luc Ferrari, José Maceda, John Zorn, David Rosenboom, Larry Ochs, Glenn Spearman, and Wadada Leo Smith; as an improvisor he has recorded with Anthony Braxton, Pauline Oliveros, Fred Frith, Rova Saxophone Quartet, Ikue Mori, Alvin Curran, William Winant, Biggi Vinkeloe, Don Robinson, and Frank Gratkowski, among many others. Recent recordings of his music include "ROGUE WAVE" (on Tzadik), "TALKING DRUM" (on Pogus), a duet with Fred Frith titled "CUTTER HEADS" (on Intakt), and "SUSPENSION", with the CBD Trio, on Rastascan. He is also a member of the pioneering computer network band "The Hub", which has just released "BOUNDARY LAYER" a box set recording celebrating over 20 years of music on Tzadik. He is also a Professor of Music and Co-Director of the Center for Contemporary Music (CCM) at Mills College in Oakland, California. More info at http://www.cbmuse.com.
---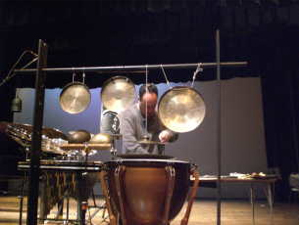 William Winant: vibraphone, percussion
…"one of the best avant-garde percussionists working today" according to music critic Mark Swed (Los Angeles Times, Wall Street Journal), has performed with some of the most innovative and creative musicians of our time, including John Cage, Iannis Xenakis, Keith Jarrett, Anthony Braxton, James Tenney, Cecil Taylor, George Lewis, Steve Reich and Musicians, Jean-Philippe Collard, Frederic Rzewski, Ursula Oppens, Joan LaBarbara, Oingo Boingo, and the Kronos String Quartet.
He is principal percussionist with the San Francisco Contemporary Music Players and the John Zorn Chamber Ensemble. Since 1995 he has been the percussionist with the avant-rock band Mr. Bungle, has made two recordings ("Disco Volante" and "California" on Warner Brothers), and has toured throughout the world with the group. In March of 1997 he participated in the world premiere of Lou Harrison's quintet "Rhymes with Silver" featuring cellist Yo-Yo Ma and the Mark Morris Dance Group, and has toured the piece throughout the United States and Great Britain.
In the fall of 2003, celebrating the 50th anniversary of the Merce Cunningham Dance Company, Mr. Winant, along with composers Takehisa Kosugi and Christian Wolff, created music for a series of eight special "Events" staged by Merce Cunningham and Dancers at London's Turbine Hall at the Tate Modern.
He has made over 130 recordings, covering a wide variety of genres, including music by Earle Brown, John Zorn, Pauline Oliveros, Luc Ferrari, Karlheinz Stockhausen, Danny Elfman ("Batman Returns"), Souxie and the Banshees, The Ex, Han Bennink, White Out with Jim O'Rourke, Thurston Moore, and Mike Patton. His recording of Lou Harrison's "La Koro Sutro" (which he produced for New Albion Records) was the New York Times Critic's Choice for best contemporary recording of 1988. In 1999 he produced a recording of 20th-century avant-garde composers with the influential rock band Sonic Youth; "Goodbye 20th-Century" (SYR4) was hailed by both The Los Angeles Times and New York's Village Voice as one of the best compendiums of this type of music ever recorded.
Many composers have written works for him, including John Cage, Lou Harrison, John Zorn, Peter Garland, Alvin Curran, Chris Brown, David Rosenboom, Larry Polansky, Gordon Mumma, Alvin Lucier, Terry Riley, Fred Frith, Somei Satoh, and Wadada Leo Smith. Mr. Winant has been featured as a guest artist with the Los Angeles Philharmonic (under the direction of Pierre Boulez), the San Francisco Symphony, and the Berkeley Symphony, as well as at Cabrillo Festival, Ravinia Festival, Salzburg Festival, Holland Festival, Ojai Festival, All Tomorrow's Parties, Taklos, Other Minds, Lincoln Center, Royal Festival Hall, Library of Congress, The Barbican, and Brooklyn Academy of Music. For ten years he was principal percussionist with the Cabrillo Festival Orchestra (Dennis Russell Davies, director), and timpanist with the Philharmonia Baroque Orchestra 1985-1989 (Nicholas McGegan, director).
He is a Visiting Lecturer at the University of California at Santa Cruz, and teaches at Mills College and the University of California at Berkeley. For eight years Mr. Winant was Artist-in-Residence at Mills College with the critically acclaimed Abel-Steinberg-Winant Trio. Formed in 1984, the ASW Trio has premiered over 25 new works for violin, piano, and percussion at major festivals and recitals throughout the world. Their recordings can be heard on the New Albion, Tzadik, and CRI/New World labels.
---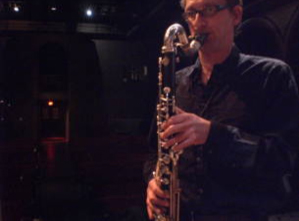 Frank Gratkowski: alto saxophone, clarinet, bass clarinet, contrabass clarinet, composition
Born in Hamburg, 1963. Started playing the saxophone at 16 and, following a period at the Hamburg Conservatory of music, moved in 1985 to study at the Cologne Conservatory of Music with Heiner Wiberny, graduating in 1990.
Further studies with Charlie Mariano, Sal Nistico and Steve Lacy.
Frank Gratkowski has been working as a soloist in various international formations (Grubenklang Orchester, Klaus Koenig Orchester, Musikfabrik NRW, Tony Oxley Celebration Orchestra, Bik Bent Braam, Zeitkratzer, WDR Big band, etc.). Since 1990 he has been giving solo performances throughout Europe, Canada and USA. With his first solo program, he was a 1991 prizewinner in the Musik Kreativ contest. The release of the solo CD "Artikulationen" followed the same year and a new one "ArikulationenII" in 2002.
Since 1992 he has been working in a duo with the pianist Georg Graewe (CD "VicissEtudes"). The duo is often extended through the participation of different additional musicians, such as drummer Paul Lovens (CD "Quicksand") and bassist John Lindberg (CD "Arrears").
In 1995 he founded the "Frank Gratkowski Trio" with Dieter Manderscheid (Germany), bass, and Gerry Hemingway (USA), drums, (CDs "Gestalten" and "The Flume Factor" ). In 2000 the trio has been extended to a quartet by Dutch trombonist Wolter Wierbos (CDs "Kollaps", "Spectral Reflections" and "Facio"). Since 2003 also appearing as a Double Quartet plus Tobi Delius, Herb Robertson, Wilbert DeJoode and Michael Vatcher. In 2005 he got the SWR Jazzprize.
2001 the Trio Kaufmann / Gratkowski / DeJoode has been founded (CDs "Kwast" , "Unearth" and "Palaë") and from 2004 he has been co leading and composing for the James Joyce Orchestra which turned in 2008 into the Multiple Joy[ce] Orchestra. Since 2006 he's working with the Trio Gratkowski / Brown / Winant.
Frank Gratkowski played on nearly every German and on numerous international Jazz and New Music Festivals including Vancouver, Toronto, Chicago, New York, Seattle, Quebec, Les Mans, Muelhuus, Groeningen, Nickelsdorf, Barcelona, Lithuania, Warsaw, Zagreb, Prague, Bratislava, Sofia, Bucharest, Odessa, Belgrad, Madrid, Barcelona, Göteborg, Huddersfield, London and Roma.
He has been teaching saxophone and ensembles at the Cologne, Berlin and Arnhem Conservatory of Music and is giving workshops all around the world as well.
He has performed with Robert Dick, Phil Wachsmann, Radu Malfatti, Herb Robertson, Marcio Mattos, Eugenio Colombo, Peter Kowald, Ray Anderson, Michael Moore, Ken Vandermark, Greg Osby, Kenny Wheeler, Louis Sclavis, John Betsch, Jane Ira Bloom, Connie and Hannes Bauer, Xu Fengxia, James Newton, Muhal Richard Abrams, John Lindberg, Michael Formaneck, Ernst Reijseger, Fred van Hove, Theo Jörgensmann, Phil Minton, Peter Brötzmann, Mark Dresser, Mark Feldman, Hamid Drake, Michiel Braam, Han Bennink, Zeena Parkins, Mal Waldron, Misha Mengelberg a.m.o.
Frank Gratkowski has released more than 20 CD under his name and appears on many others. Further info and tour dates @ http://www.gratkowski.com
---
This concert is made possible with the support of the Foreign Office of the Federal Republic of Germany and the Goethe Institute.