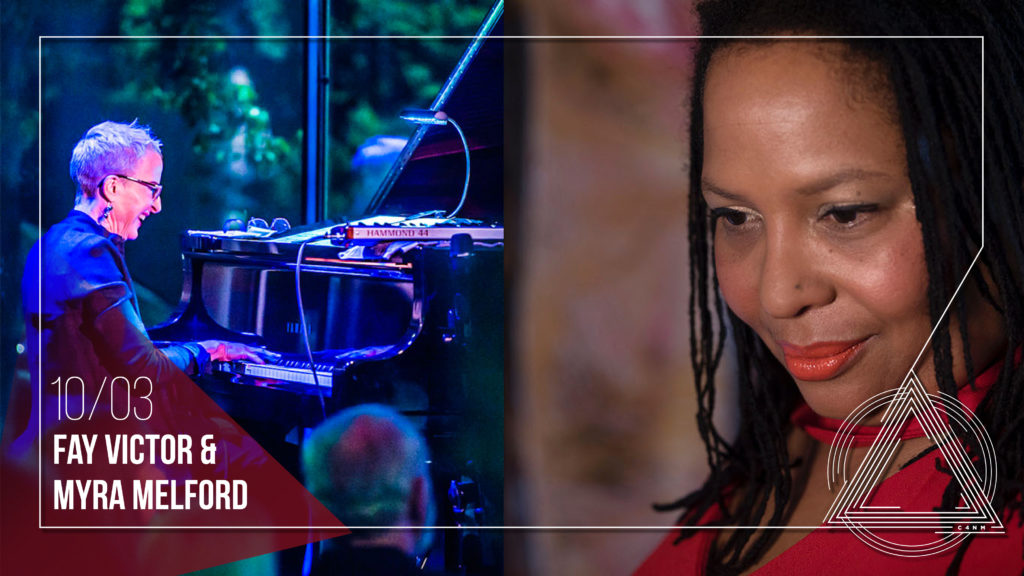 Brooklyn, NY based sound artist/composer Fay Victor, honing a unique vision for the vocalist's role in jazz and improvised music, is joined in duo performance and conversation by "stalwart of the new-jazz movement" pianist/composer Myra Melford, from across the Bay, in Berkeley. Co-presented with The Poetry Center, San Francisco State University, as the first double-program in its Fall 2019 In Common Writers Series, supported by the Walter & Elise Haas Fund.
Pushing the vocal envelope forward regarding repertoire, improvisation, and composition, Fay Victor encompasses a distinctive vocalizing, language, and performing approach with the foundation of the jazz vocal idiom, invoking an "everything is everything" aesthetic that brings in references that span the globe. Victor sees the vocal instrument in itself as full of possibilities of sound exploration, the voice a direct and powerful conduit for language and messages in an improvising context. All of these ideas aim to push the vocal envelope to forge greater expressive possibilities. In Victor's nine critically acclaimed albums as a leader one can hear the through line of expansive expression leading up to her most recent release, Wet Robots (ESP Disk, 2018) with her SoundNoiseFUNK project. Victor's performed with luminaries such as Dr. Randy Weston, Gary Bartz, Misha Mengelberg, Archie Shepp, Nicole Mitchell, Myra Melford, Jamaaladeen Tacuma, Billy Martin, and Tyshawn Sorey.
The pianist, composer, bandleader and educator Myra Melford has spent the last three decades making brilliant original music that is equally challenging and engaging. Culling inspiration from a wide range of sources including Cecil Taylor, the blues and boogie-woogie of her native Chicago, the poetry of Rumi, the AACM, and yoga, she's explored an array of formats, among them ruminative solo-piano recitals, deeply interactive combos and ambitious multidisciplinary programs. Melford's most recent release, The Other Side of Air (Firehouse 12), by her quintet Snowy Egret, is an extraordinary document of her unique creative language—a seamless, shifting blend of composition and improvisation, and a probing of the space shared between dynamic small-group jazz and contemporary chamber music. Since debuting on record as a bandleader in 1990, she's built a discography of more than 20 albums as a leader or co-leader, and has collaborated with such luminaries as Dave Douglas, Marty Ehrlich, Liberty Ellman, Erik Friedlander, Ben Goldberg, Joseph Jarman, Leroy Jenkins, Ron Miles, Nicole Mitchell, Tyshawn Sorey, Chris Speed, Stomu Takeishi, Cuong Vu, and the Jazz at Lincoln Center Orchestra.
Fay Victor is in the Bay Area as an Artist in Residence at Headlands Center for the Arts.