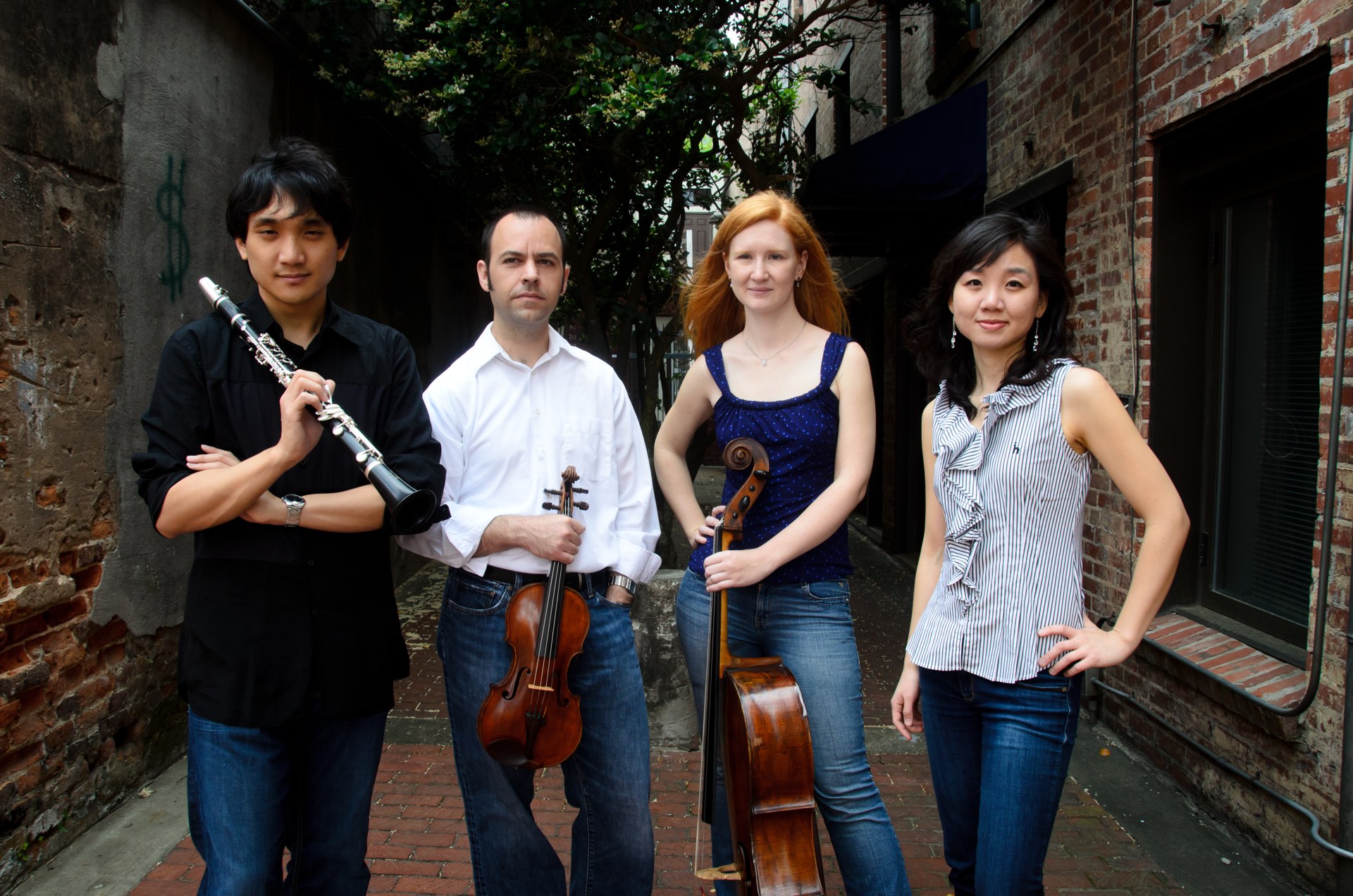 Possessing a knack for adventurous yet accessible programming, enhakē (in-HA-kee) has consistently distinguished itself with performances of startling intensity. Drawing its name from the Seminole (Creek) word for sound or call, enhakē has been praised for its "playing of the very highest caliber" (Fanfare) and "keen instinct for exciting programmes" (BBC Music Magazine). Their 2010 Carnegie Hall recital Made in America was lauded for its "rock solid rhythmic integrity…strengths in balance, intonation, and musicality" and described as a "polished, yet spontaneous performance" (The New York Concert Review).
Their distinctive instrumentation (Wonkak Kim, clarinet; M. Brent Williams, violin; Katherine Decker, cello; Eun-Hee Park, piano) allows them the flexibility to perform repertoire from the Baroque, Classical, and Romantic eras in addition to the most captivating contemporary masterworks. The grand-prize winner of the Yellow Springs Chamber Music Competition (2009), gold medalist of the International Chamber Music Ensemble Competition at Carnegie Hall (2008), and laureate of the Osaka International Chamber Music Competition (2011), enhakē has successfully toured on three continents and in some of the world's most exciting venues including: NYC's Carnegie Hall, at the OK Mozart Festival, South Korea's Young-San Arts Hall, the Pan-Music Festival at the Seoul Arts Center, and the Promising Artists of the 21st Century Series in Costa Rica under the auspices of the US Department of State and Costa Rica—North America Cultural Center. They have also been the ensemble-in-residence for the Albany Symphony Orchestra (GA) and Tallahassee Youth Orchestras (FL).
Strong advocates for new music, enhakē has had works written for and dedicated to them by many of the world's leading composers including: Libby Larsen, Peter Lieuwen, and Edward Knight. The quartet's members are all dedicated educators having held posts at universities in Alabama, Colorado, Connecticut, Georgia, Mississippi, Oregon, Tennessee, Texas, and Wisconsin, in addition to being faculty members at the Chapel Hill International Chamber Music Workshop (NC), Music in the Mountains Conservatory (CO), Interlochen Center for the Arts (MI), and Blue Lake Fine Arts Camp (MI).
As a group they have produced CDs for the MSR, Naxos, and Emeritus labels, which can be heard on NPR stations across the United States, Sirius XM, and public radio in Korea. enhakē's latest CD, Prepárense: The Piazzolla Project, was called "positively delightful…[t]he sense of ensemble is near-miraculous" (Fanfare). Another reviewer stated, "[t]he intensity is real, the sounds gorgeous, the rhythms infectious…this version strides proudly alongside the legendary recording by Piazzolla himself" (Gramophone).
For this concert enhakē will be performing Gabriela Lena Frank's Hilos, David Biedenbenders' Red Vesper, Jean Ahn's Stereograph, and John Mackey's Breakdown Tango.
For more information, visit their website at www.enhake.com.