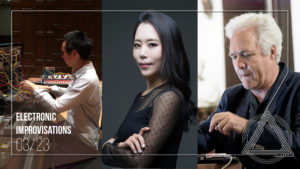 Electronic Improvisations — Chris Brown, James Fei, and Soo Yeon Lyuh
Chris Brown will perform live electronics in duets with Soo Yeon Lyuh, amplified haegum (two-string Korean bowed string instrument); and James Fei, analog electronics. This concert is the first in a new series at CNM of music for live electronic ensembles that Brown will curate during the next two years. A week-long mini-festival is next, scheduled for June 18-23rd. The series is generously supported with a state-of-the-art sound system donated by Meyer Sound.
CHRIS BROWN, composer, pianist, and electronic musician, makes music with self- designed sonic systems that include acoustic and electroacoustic instruments, interactive software, computer networks, microtonal tunings, and improvisation. His compositions are designs for performances in which people bring to life the musical structures embedded in scores, instruments, and machines. He has been a member since 1986 of the pioneering computer network music band The Hub, which received the Giga-Hertz Prize for Electroacoustic Music in Nov. 2018 from ZKM, Karlsruhe. Throughout his career he has composed solos for acoustic instruments with interactive electronics, and for computer alone, using software he writes for his compositions and improvisations. Since 2005 he has written music in just intonation, often integrating rhythmic structures that parallel the proportions used in their tunings. Recordings of his music are available on New World, Tzadik, Pogus, Intakt, Ecstatic Peace, Red Toucan, Leo, and Artifact Recordings. He is a Professor Emeritus at Mills College in Oakland, California, where he taught electronic music, composition, theory, and ethnomusicology for 30 years.
JAMES FEI (b. Taipei, Taiwan) moved to the US in 1992 to study electrical engineering. He has since been active as a composer and performer on saxophones and live electronics. Works by Fei have been performed by the Bang on a Can All-Stars, Orchestra of the S.E.M. Ensemble, MATA Micro Orchestra and Noord-Hollands Philharmonisch Orkest. Recordings can be found on Leo Records, Improvised Music from Japan, CRI, Krabbesholm and Organized Sound. Compositions for Fei's own ensemble of four alto saxophones focus on physical processes of saliva, fatigue, reeds crippled by cuts and the threshold of audible sound production, while his sound installations and performance on live electronics often focus on electronic and acoustic feedback. Fei received the Grants for Artists Award from the Foundation for Contemporary Arts in 2014 and he is president of Anthony Braxton's Tri-Centric Foundation. Fei has taught at Mills College in Oakland since 2006, where he is Professor of Electronic Arts, Music Department Chair and Head of the Art and Technology Program.
SOO YEON LYUH is a master of the haegeum, a two-stringed Korean bowed instrument. She possesses not only a full command of the haegeum's traditional repertoire, but is also widely recognized for promoting the creation of new pieces for haegeum. For twelve years, Lyuh was a member of South Korea's National Gugak Center, the foremost institution for the preservation of Korean traditional music. Since then, Lyuh has endeavored to weave authentic styles into new musical domains, relocating to the Bay Area and drawing inspiration from its dynamic improvised music scene. Her contributions have sparked the creation of new repertoire for haegeum—the lifeblood of any instrument. She has premiered dozens of new works and recently made her debut as a composer with the Kronos Quartet.