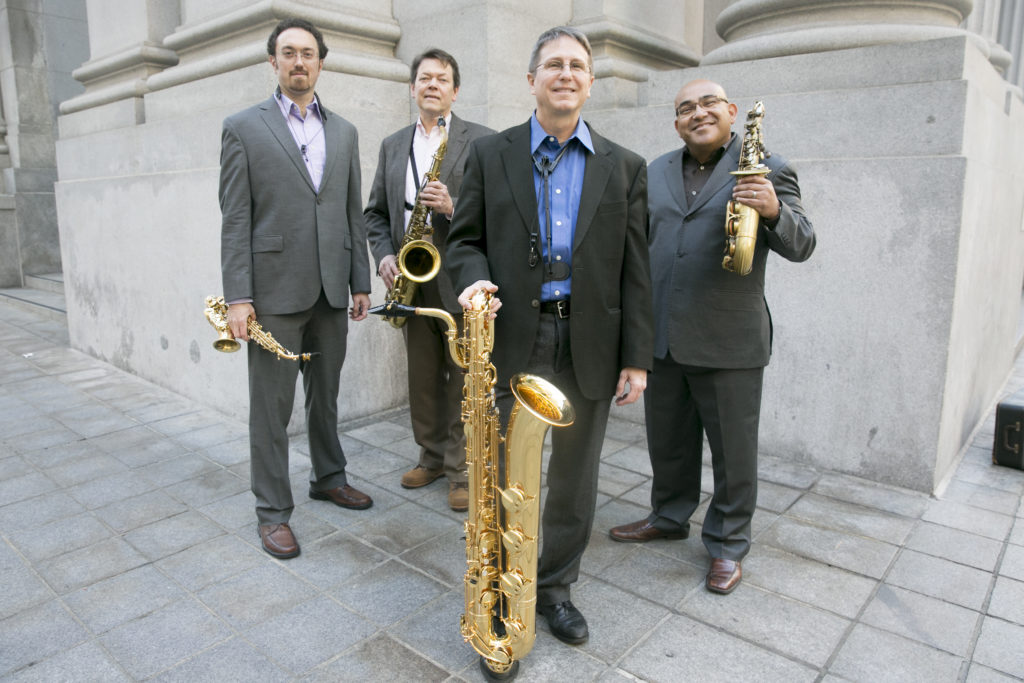 San Francisco-based Einsteinium Quartet presents a diverse program of saxophone quartet music by California composers. The concert will feature works by Gordon Goodwin, Erika Oba, Cornelius Boots, Lenny Pickett, Brian Einstein Lassiter, Mark Secosh, and Warren Barker, ranging from contemporary classical, samba, funk and other styles. The program culminates with the World Premiere of Shapeshift, a three-movement piece by Mario Godoy which was commissioned for this concert.

Shapeshift casts the timbral and rhythmic texture of the saxophone quartet as a musical shape that changes and evolves over time. These changes can be gradual and easily distinguishable, or sudden and unexpected. The first movement is characterized by a series of oscillating sixteenth notes that weave in and out of each other creating harmonic blocks of sound. The textures in this movement grow in density, become more sporadic, and eventually fall apart, devolving into something different, but not unrecognizable, only to collect itself once again and find its new shape. The second movement plays with the idea of reflections, viewing a subject from new angles, and even multiple angles at once, as if placing the changing shape in a hall of mirrors. The final movement is much more rhythmic in nature and imagines the shape as a figure in constant motion. As it travels, it warps, stretches, and fragments creating new sounds and rhythmic characteristics. The pulse is in constant flux as the figure navigates its metamorphosis.
Einsteinium Quartet is Brian Einstein Lassiter, Hermann Lara, Mark Secosh, and Eric Scheide.