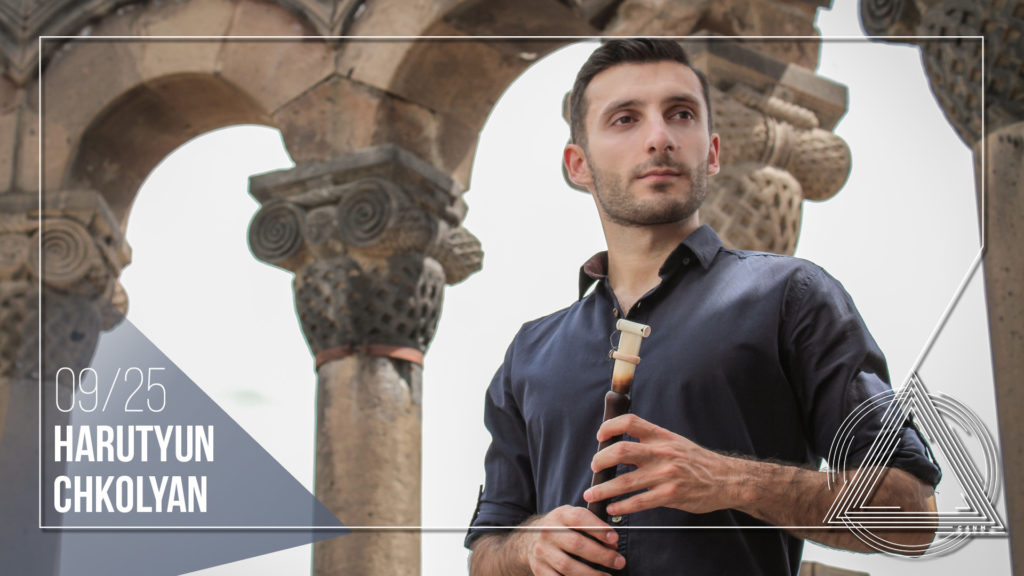 This event has been canceled due to visa complications. Unfortunately, visa complications are increasingly common with the current political administration. Those who bought tickets have been refunded.
Armenian Duduk Master Harutyun Chkolyan in Concert- Armenian Soundscapes: Duduk Zurna Ney
"Otherworldly"- Jazz Weekly (July 2017)
Armenian duduk master Harutyun Chkolyan makes his San Francisco solo debut at the Center for New Music in support of his 2019 US and European tour entitled "Armenian Soundscapes: Duduk Zurna Ney". With piano and percussion accompaniment, Chkolyan will present a program of Armenian folk and contemporary music spanning the ages on Armenian folk instruments such as the duduk, zurna, pku, and shvi in addition to the ney flute and clarinet.
About the Artist
Harutyun Chkolyan is a multi-instrumentalist specializing in Armenian folk wind instruments such as the duduk, zurna, shvi, pku, in addition to the clarinet and ney flute. He is a graduate of the Komitas State Conservatory of Yerevan, where he studied under renowned duduk master Gevorg Dabaghyan. Considered a musical prodigy, he initially began his studies on the shvi (an Armenian recorder) at the age of six.
Despite his relatively young age (born in 1991), Chkolyan is a seasoned professional who has performed extensively throughout the world. In 2006, he had the honor of performing for Senator Edward Kennedy at the Massachusetts State House. In April 2007, Chkolyan was a featured guest of Marco Werman on PRI's The World in partnership with BBC and WGBH. He is currently a member of the State Folk Ensemble of Armenia and has performed with the Armenian Philharmonic Orchestra, iCulture Orchestra, as well as other smaller ensembles. He has frequently collaborated with Maestro Kirill Karabits (Bournemouth Symphony Orchestra, Deutsches Nationaltheater and Staatskapelle Weimar). Chkolyan has also appeared in a music video with Grammy Award winner Joss Stone and was chosen as the duduk soloist for Serj Tankian's (System of Down) composition "Orca Symphony no.1". He has contributed to hundreds of studio tracks for other musicians during his career.
A native of Gavar, Armenia, Harutyun Chkolyan's family roots are from Old Bayazet (Daroynk). He maintains an active teaching, recording, and performance schedule and resides in Yerevan, Armenia. Armenian Soundscapes: Duduk. Zurna. Ney. is Harutyun Chkolyan's debut solo album (Pomegranate Music, 2017).