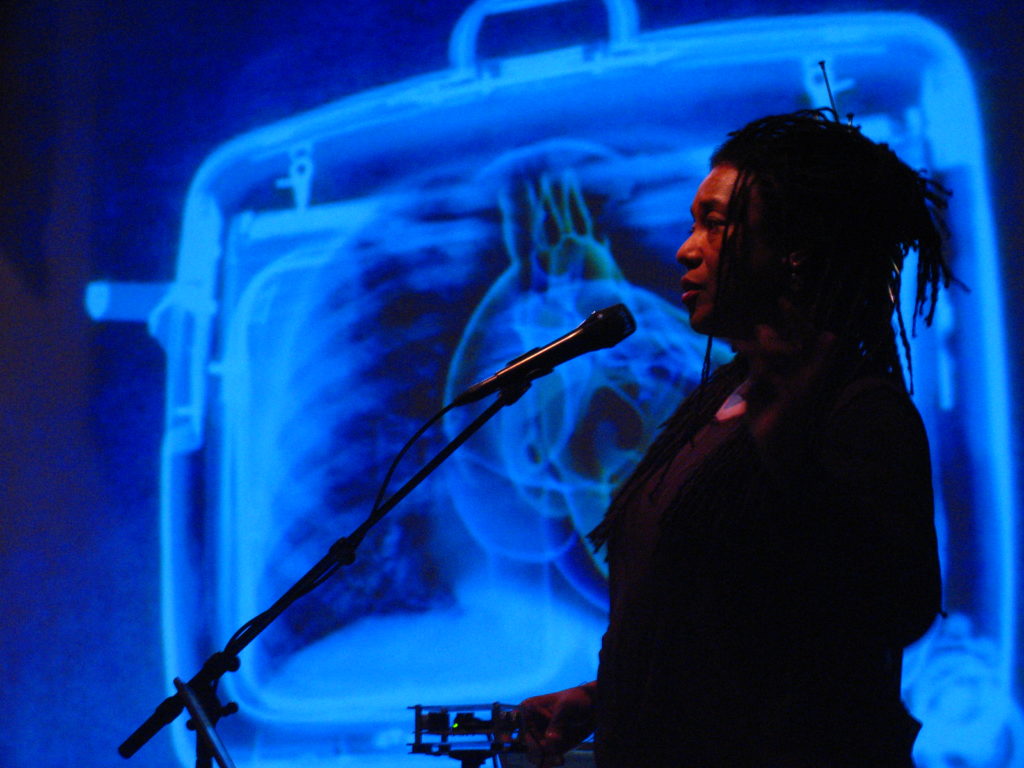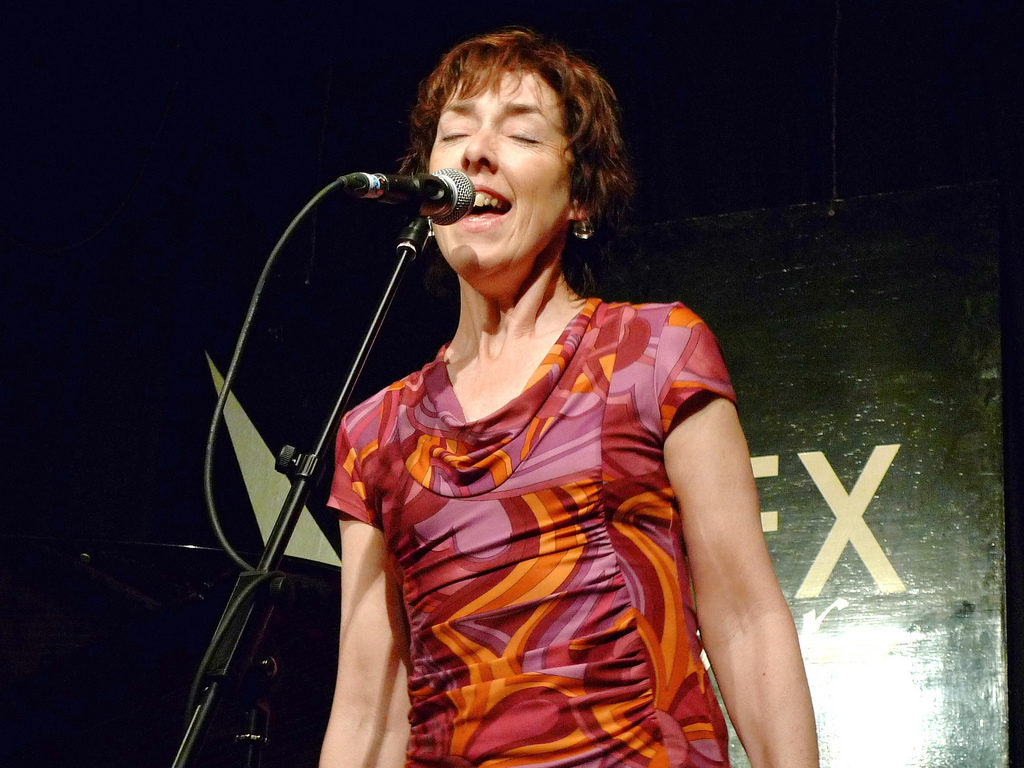 Set 1: Pamela Z presents a multimedia suite of solos for voice, electronics,  including excerpts from recent works Memory Trace and Closed Loop. 
Techno-diva Pamela Z is renowned not only for her breathtaking and superbly-trained voice, but also for her breakthroughs in live looping, multi-media art, and wearable controllerismo, making stunning use of controllers fashioned by musician and technologist Donald Swearingen.
Her presentation earlier this year at the Royce Gallery of segments from her work Memory Trace was a tour de force of integration between various controller-coordinated media and superb and affecting vocal music, as well as a juxtaposition of very human and completely nonhuman forms of memory and repeated reality.
BIO: Pamela Z is a San Francisco-based composer/performer and media artist who works primarily with voice, live electronic processing, sampled sound, and video. A pioneer of live digital looping techniques, she creates solo works combining experimental extended vocal techniques, operatic bel canto, found objects, text, digital processing, and wireless MIDI controllers that allow her to manipulate sound with physical gestures. In addition to her solo work, she has been commissioned to compose scores for dance, theatre, film, and new music chamber ensembles including Kronos Quartet and the Bang on a Can Allstars. Her large-scale multi-media works have been presented at venues including Theater Artaud and ODC in San Francisco, and The Kitchen in New York, and her media works have been presented in exhibitions at the Whitney Museum (NY), the Diözesanmuseum (Cologne), and the Krannert Art Museum (IL). Her multi-media opera Wunderkabinet – inspired by the Museum of Jurassic Technology (co-composed with Matthew Brubeck) has been presented at The LAB Gallery (San Francisco), REDCAT (Disney Hall, Los Angeles), and Open Ears Festival, Toronto. Pamela has toured extensively throughout the US, Europe, and Japan, and has performed in numerous festivals including Bang on a Can at Lincoln Center (New York), Interlink (Japan), Other Minds (San Francisco), La Biennale di Venezia (Italy), and Pina Bausch Tanztheater Festival (Wuppertal, Germany). She is the recipient of numerous awards including a Guggenheim Fellowship, the Creative Capital Fund, the CalArts Alpert Award in the Arts, The MAP Fund, the ASCAP Music Award, an Ars Electronica honorable mention, and the NEA and Japan/US Friendship Commission Fellowship. She holds a music degree from the U. of Colorado at Boulder. For more information visit www.pamelaz.com
Set 2: Viv Corringham Multimedia Consort present "Ρεμπέτικα Νεα" ("New Rebetika"), an electronicized, multi-media radicalization of the Greek rebetika music as part of Viv's Life Is Clearer Seen Through Smoke tour. Line-up: Viv Corringham, Nancy Beckman, Tom BIckley, Nan Busse, Anna Geyer, & Joe Lasqo.
The extended, and wonderfully unconventional possibilities of the rebetika repertoire can be heard on Viv's "New Rebetika" album with British avant lap-steel guitarist / electronic musician Mike Cooper, Rembetronika, accessible at: https://archive.org/details/MikeCooper.VivCorringham.rembetronika.
As on past visits to the Bay Area, Viv will lead Bay Area musicians, dancers, and moving image artists in a multimedia consort that affords many opportunities for synesthetic counterpoint, and she and her colleagues will take the possibilities of this repertoire even further.
Line-up:

Viv Corringham: voice, electronics, field recordings
Nancy Beckman: shakuhachi
Tom Bickley: contra-bass recorder & EWI wind synth
Nan Busse: dance & didgeridoo
Anna Geyer: film & light abstractions
Joe Lasqo: laptop/MSP, piano, objects, field recordings

Viv Corringham (voice, electronics, field recordings) has worked internationally since the early 80s, creating music performances, audio installations & soundwalks, using as her tools a gorgeous voice, a wide-open imagination, field recordings, and live electronics.
Her ongoing project Shadow-Walks has been presented in gallery shows from New York to Istanbul to Hong Kong in an extensive touring schedule encompassing Europe, the US, Asia, and Oceania, including: Vitamin S Festival – Auckland, New Zealand; Artist residencies – Montalvo Arts Center, CA; Singing In Place – Tempo Reale Festival, Florence, Italy; Soundworks – ICA, London, UK; Her Noise Festival – Tate Modern, London, UK; Rembetronika – An Insolent Noise Festival, Pisa, Italy; Shadow-walks: Toronto – Sound Travels Festival of Sound Art, Toronto, Canada; Visibility Project – Galata Perform, Istanbul, Turkey; Shadow-walks: Cork – Art Trail Soundworks Festival, Cork, Ireland.
Viv's training and awards include an MA in Sonic Art with Distinction from Middlesex University & a BA in Theatre Design from Nottingham Trent University. She's a certified teacher of Deep Listening, having studied with Pauline Oliveros. Viv is a twice-awarded McKnight Composer Fellow; other grants and awards have come from Jerome Meet the Composer, the English & Irish Arts Councils, Jazz Services, Millennium Funding, London Arts Board, Chisenhale Awards, and others.
Nancy Beckman (shakuhachi) creates performance pieces, plays and teaches the shakuhachi, and performs with the Cornelius Cardew Choir. Her education includes an undergraduate degree in East Asian Studies from Wesleyan University, a master's in Interarts from SFSU and ordination to teach shakuhachi from Myōan-ji (明暗寺, the famous "Temple of Light & Darkness" of shakuhachi history) in Kyoto.
Tom Bickley (bio / site) (contra-bass recorder & EWI wind synth) composes electro-acoustic music, plays and teaches recorder, performs with Three Trapped Tigers (with recorder player David Barnett), co-founded and directs the Cornelius Cardew Choir, is a curator emeritus of the Meridian Gallery music series, and is on the Library Faculty (music, philosophy and political science) at CSU East Bay. His education includes degrees in music, theology, and library and information science and the Certificate in Deep Listening.
Nan Busse (dance & didgeridoo) has been creating dance-based art works since receiving her MFA from UC-Irvine. Collaborating with choreographer Christopher Beck she made pieces performed at Centerspace (Project Artaud) & New College; and with her partner, poet Tobey Kaplan, participated in the Link inter-disciplinary performance series. Since about 1999 she's been unable to stop dancing – thanks to Yvonne Caldwell, Evelyn Thomas, Roger Dillahunty, Georgia Ortega, John Tanner, and the great Cassie Terman, and has toured in Việt Nam and the US with Nguyễn Dance Company.
Anna Geyer (film & light abstractions) is both an award winning experimental filmmaker and a writer. Her films have screened in many festivals both domestically and internationally. Cameraless, non-representational work has been the emphasis of her recent efforts, although she frequently describes her work as, "experimental with a narrative bent". Her stunning multi-projector physical film abstractions have often been featured in duos with electronic musician David Molina. "Unlike traditional two projector (change-over) screenings, my projector lamps and lenses are not matched. Each projector lamp has a different brightness on purpose… Here I load a reel of abstract, hand painted cameraless work. It can move at variable speeds forward or reverse, or even remain still… At times I employ a fourth projector. I do so in order to allow a frame to get stuck in the gate and burn." Her written work has appeared in Sex and Chocolate, Gargoyle, The Underwood Review, Wasted Space, and Centipede. She also teaches film related classes at Solano Community College & CCSF.
Joe Lasqo: (laptop/MSP, piano, objects, field recordings)
Pianist / laptopist Joe Lasqo studied classical music in India; computer/electronic music at MIT, Columbia, Berkeley/CNMAT; has been a long-time performing modern & avant jazz musician; & has lived, played and listened in several Asian and European countries (now in San Francisco). He's keen on the application of artificial intelligence techniques to improvisation and the meeting of traditional Asian musics with the 21st century. His recent album, Turquoise Sessions, is available on Edgetone Records; with new releases planned in 2015. 
Joe has had residencies in the piano series at San Francisco's Viracocha and PianoFIght, and has appeared recently with Bruce Ackley and Steve Adams of ROVA Saxophone Quartet, Aaron Bennett's Electro-Magnetic Trans-Personal Orchestra, Phillip Greenlief's Orchesperry, his own Renga-kai (連歌会), Mukaiji-kai (霧海箎会), and Fushigi Kenkyūkai (不思議研究会) ensembles, synthesist Thomas Dimuzio, clarinetist/vocalist Beth Custer, pianist Thollem McDonas, percussionist Suki O'Kane, sound artists Joe Snape (UK) & Lucie Vítková (Czech Rep.), technodivas / electronic musicians Pamela Z & Viv Corringham (NYC/London) and many others.
AU QUOTIDIEN, a new album with German-Swedish saxist/flautist Biggi Vinkeloe, master drummer Donald Robinson, and cello madman Teddy Rankin-Parker is in production for release in early 2016.