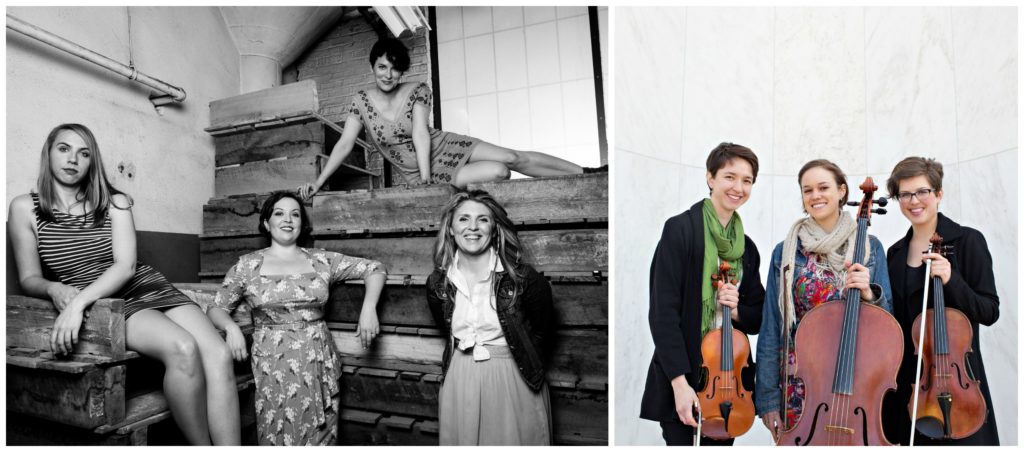 A new music double bill for the ages, featuring two pioneering groups from across the country performing music by 20th and 21st century composers.
The women of Quince Contemporary Vocal Ensemble will present vocal works straying far from traditional choral singing. Amanda, Carrie, Kayleigh, and Liz will sing and play works chosen to challenge, soothe, and soar, while exploring the possibilities of expressivity in an often wordless choral landscape, singing declarations of love, grief, mirth, and expectation. In addition to tracks off their debut album, Realign the Time, Quince's program includes works by Ravi Kittappa, Jonathan Sokol, Monte Weber, Max Grafe, Amanda Feery, Danny Clay, Warren Enstrom, and Giacinto Scelsi, representing the new and diverse directions in vocal composition of the 20th and 21st centuries.
The tri-coastal string trio Chartreuse will be performing West Coast premieres of works by Bethany Younge, Kurt Isaacson, and Scott Rubin, as well as works by Peter Swendsen and Lewis Nielsen. These pieces will showcase their ability to hum in unison, to play "as fast as possible" yet somehow magically together, to musically morph into a murmuration, and to imitate the sounds of meat grease.
About Quince:
With the precision and flexibility of modern chamber musicians, Quince Contemporary Vocal Ensemble specializes in experimental repertoire that is changing the paradigm of contemporary vocal music. Described as "a new force of vocal excellence and innovation" by The Brooklyn Rail, Quince continually pushes the boundaries of traditional vocal ensemble literature. As dedicated advocates of new music, Quince regularly commissions new works, providing a wider exposure for the music of living composers, and supports the efforts of concert series and universities who strive to incorporate contemporary repertoire into their programming. Quince has recently been seen on Vicky Chow's Contagious Sounds Series, a.per.io.dic's John Cage Festival in Chicago, on the Philip Glass: Music with Friends benefit concert at the Issue Project Room in Brooklyn, and at the Bemis Center for Contemporary Arts in Omaha, NE. Comprised of vocalists Liz Pearse, Kayleigh Butcher, Amanda DeBoer Bartlett, and Carrie Henneman Shaw, Quince thrives on unique musical challenges and genre-bending contemporary repertoire. Visit www.quince-ensemble.com for more information about upcoming events.
About Chartreuse:
Chartreuse is violinist Myra Hinrichs (Chicago), violist Carrie Frey (New York City), and cellist Helen Newby (San Francisco). As a "tricoastal" trio, they aim to take advantage of the distance by working with as many amazing people in their cities of residence as possible. This season includes a collaboration with Christopher Preissing and NON:op in Chicago, a double bill with Triple Point Trio featuring a new sextet by Thomas Kotcheff; east- and west-coast premieres of works by Bethany Younge, Aaron Holloway-Nahum, and Scott Rubin; concerts with Gregory Uhlmann and Elise Roy in LA; a concert of Carolyn O'Brien's work in Chicago; and the premiere of a new work by the Oslo-based Tyler Futrell.