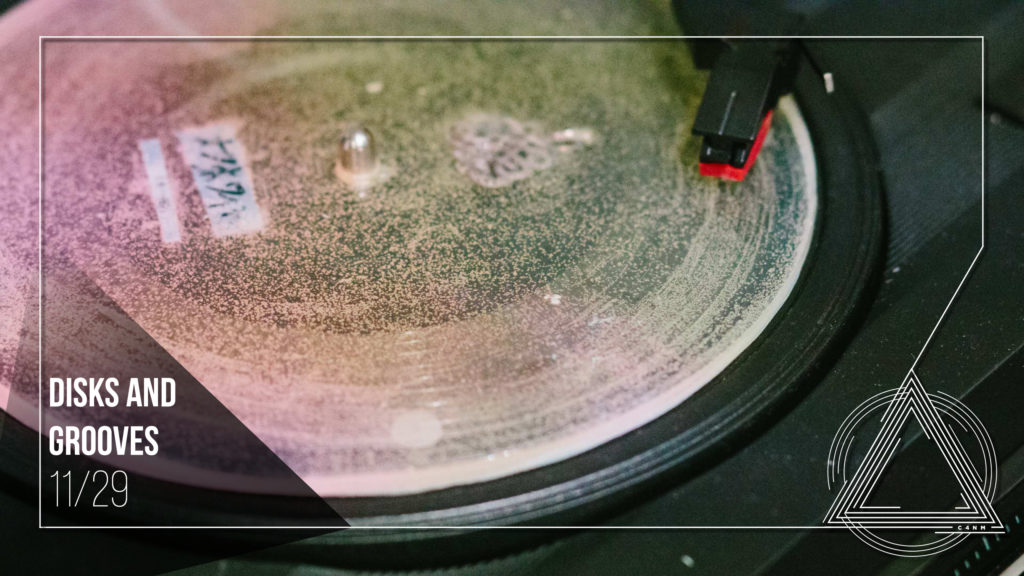 Composer Danny Clay and printmaker Jon Fischer present an evening of film screenings with live musical accompaniment. Exhibited in conjunction with an interactive visual art display, the screening combines the duo's hand printed records with field footage shot across the California coastline.
Program will include:
Turntable Drawing No. 20 – video triptych with three saxophones and live turntables
Turntable Drawing No. 24 (Origin Stories) – video of record "origin stories," written, narrated and illustrated by 3rd, 4th and 5th graders from San Francisco.
Turntable Drawing No. 30 – with video, cello, and turntables
T.D. Skatchit & Company features Tom Nunn & David Michalak playing Nunn's inventions the Skatchbox  and Skatch Platter with guests from a pool of over 20 collaborators known as The Company. For this concert, The Company features Aurora Josephson.
First there was the Electric Light then The Talking Machine. Now witness The Skatchbox; a new musical invention by Thomas Skatchit.
Built out of cardboard and played with combs, this recession era wonder conjures up sounds previously unknown to man. The mere sweep of the comb across the box creates a new universe of sound reminiscent of wind, the seashore, trees rustling, birds singing, frogs croaking and other magical sounds.
Bios:
Turntable Drawings is a collaboration between composer Danny Clay and printmaker Jon Fischer based on a growing series of hand-molded records. Part sculptural sketch, part three-dimensional print, each record is part of a wide-ranging collection formed using a variety of techniques and materials. Records are imprinted with mathematical textures, original recorded material, or direct casts of existing LPs that include some of history's earliest recorded sounds. Since 2016, the project has been presented in conjunction with over twenty guest artists in many interdisciplinary forms including immersive installations, scored musical compositions, visual art exhibitions, and interactive workshops.
Tom Nunn has designed, built and performed with original musical instruments since 1976, and has built over 250 instruments. His instruments typically utilize commonly available materials, are sculptural in appearance, utilize contact microphones for amplification, and are designed specifically for improvisation with elements of ambiguity, unpredictability and nonlinearity. Tom has performed extensively throughout the San Francisco Bay Area for over 30 years, as well as in other parts of the U.S., Canada, Europe, and New Zealand, both as soloist and with other musicians. Tom also performs with T.D. SKATCHIT, RTD3, and GHOST IN THE HOUSE and has appeared on a number of recordings, including his solo CD, Identity (2007), T.D. Skatchit & Company (2009), Skatch Migration (2010), Skatch Surveillance (2012), and Ear of the Storm (2013) (Edgetone Records). In 1998, he self-published WISDOM OF THE IMPULSE: ON THE NATURE OF MUSICAL FREE IMPROVISATION.
Bart Hopkin is director of Experimental Musical Instruments, an organization devoted to unusual musical instruments. In addition to building, teaching and consulting, he has written many books on instruments and their construction, and produced books and CDs featuring the work of innovative instrument makers. More information can be found at www.BartHopkin.com.