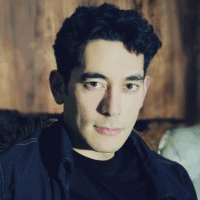 Daniel Corral is a composer and multi-instrumentalist born and raised in Eagle River, Alaska. His music is a rich collusion of styles, constantly blurring the boundaries between the familiar and foreign, mirroring the diasporic evolution of cultural identity in the twenty-first. His unique voice finds outlet in puppet operas, accordion orchestras, handmade music boxes, electronic collages, site-specific installations, chamber music, and interdisciplinary collaborations. Corral's music has gained great attention in Los Angeles, being commissioned and presented by venues such as REDCAT, The Hammer Museum, MOCA, USC's Thornton School of Music, CSUN's Mike Curb College of Arts, The Pianospheres Series, and The Santa Monica GLOW Festival. He writes, arranges, and performs with numerous music groups, including Timur & The Dime Museum, Killsonic, Free Reed Conspiracy, and Tears of the Moosechaser. Corral received his MFA from Calarts, where he studied with James Tenney, Anne LeBaron, and Morton Subotnick.
sfSoundGroup's opening set will feature trombonist Brendan Lai-Tong, performing frenetically virtuosic solo works by Brian Lynn and Christian Lindberg.
Doolallynastics – A brief torture for trombone (Lynn)  combines classical, jazz and extended trombone technique elements into a virtuosic workout for the trombonist. The word "doolally", derived from the original term "doolally tap", means out of one's mind, irrational, deranged, or insane. The piece was written for John Kenny, a British trombonist, actor, composer and multi-faceted performer of contemporary solo repertoire, modern jazz and early music.
Brian Lynn was born in 1954 in Hornchurch, Essex. At the age of five he began playing the violin and at eleven years old, entered the Junior Royal Academy of Music. Brian's interest in the trombone began at this time and it soon became his first study instrument. He achieved his LRAM at the early age of 17. Brian was a member of the National Youth Orchestra of Great Britain for three years and studied at the Guildhall School of Music and Drama under Denis Wick and Peter Gane. He then worked for Scottish Opera, Scottish Chamber Orchestra and Kent Opera while free lancing with major British orchestras.
Kokakoka (Lindberg) for solo trombone is a three part invention for a trombonist, voice and foot. The piece is inspired by a children's language called the bandidos language and kokakoka means cookie. The piece unfolds in three short movements, the first of which can be played separately. The piece makes extensive use of multi phonics and sung syllables.
Christian Lindberg's (b. 1958) achievements for the trombone can only be compared with those of Paganini for the violin or Liszt for the piano. Having premiered over 300 works for the trombone (including more than 30 composed by Christian himself), recorded over 70 solo CDs, and having an international solo competition created in his name in Valencia, Spain, Christian Lindberg is today nothing less than a living legend. Lindberg took up the trombone at 17 inspired by the jazz trombonist Jack Teagarden. At 18 he gained admission to the Royal College of Music in Stockholm and after having played for only two years he got a position as trombonist in the orchestra of the Royal Swedish Opera in Stockholm. At 20 he left the orchestra, and has since built up a unique and impressive career as the first trombone soloist in history, as well as embarking on two new enormously successful careers as conductor and composer.