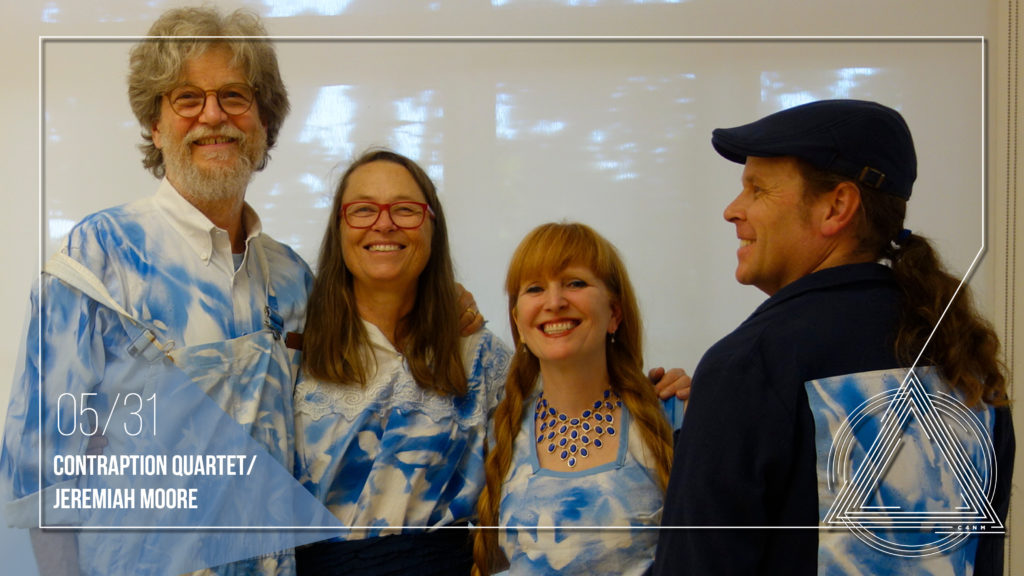 Low-tech (Contraption Quartet) meets high-craft sound (Jeremiah Moore). Contraption Quartet members are Bodil Fox, Larnie Fox, Chris Miller and Lena Strayhorn. This performance marks the final evening of Larnie's exhibit at the Center for New Music celebrating the 500th anniversary of Leonardo's passing. Join us for an evening of experimentation and exploration of material-based sound.
…………………………..
The Contraption Quartet (formerly FLEX) is a sound art collaboration between Crank Ensemble veterans Larnie Fox, Bodil Fox, Chris Miller, and Lena Strayhorn. The Quartet explores sound and visual performance using low-tech invented instruments and sculptural environments. Members are visual artists and musicians working together to create rhythmic layers of material-based analog sound.
…………………………..
Jeremiah Moore (b. 1972, North Carolina, raised in Colorado) is a sound artist and sound designer specializing in high-craft sound with attention to environment, detail, and process in film, theater, radio, and other media. Much of his output centers on audio postproduction for nonfiction and occasionally fictional film.
Recent performances and installations have involved manipulating resonant aspects of field recordings, and physical documentation of processes and spaces in sound. Recurrent interests include human/environment interfaces, nature and concepts of the natural, history of technology, and experiences of time.
He is currently working on a year-long sound-image timelapse of urban trees with Rachel Strickland, and has created sonic experiences for The Residents (Eskimo in Constellation Surround, Exploratorium) and Ai WeiWei (@LARGE, Alcatraz). He has provided sound design and mix for many documentary films including 2014 Oscar-shortlisted "Slomo" (dir. Josh Izenberg, prod. Amanda Micheli), and 2016 Oscar Nominee "Last Day of Freedom" (dirs. Dee Hibbert-Jones and Nomi Talisman). He serves on the board of The TANK Center for Sonic Art in Rangely, Colorado and co-founded Bay Area Sound Ecology.