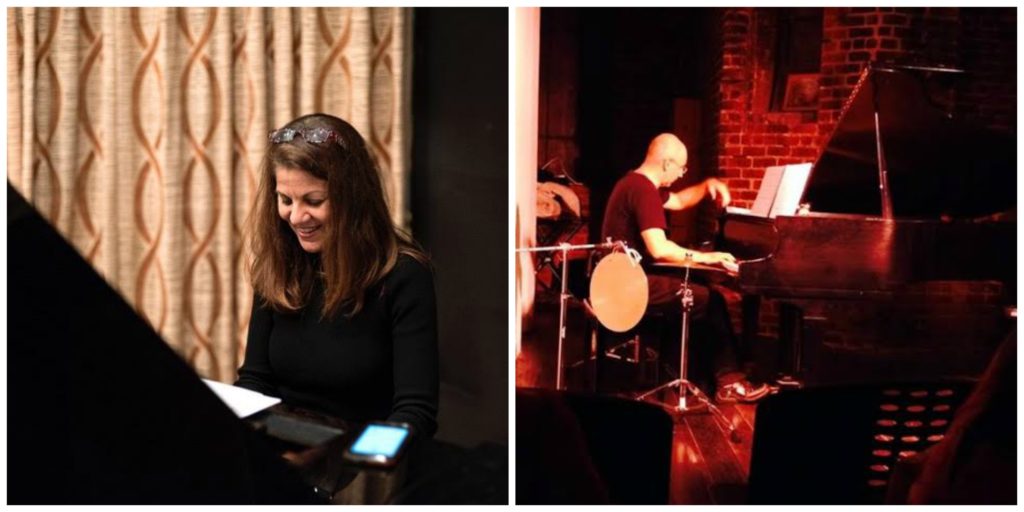 CONCERT FOR TWO PIANOS. Anne Sajdera and Davide Verotta present an evening of original music that brings new voices to the limited repertoire for two pianos. Stylistically the pieces alternate between jazz-inspired melodies and harmonies, classical foundations and structures, and modern techniques. As an homage to the great composers of the past the program also includes Shostakovich's Concertino for two pianos.
Pianist/composer Anne Sajdera has long been an invaluable part of the San Francisco Bay Area music scene—as leader of her own trio and performing with artists such as Alexa Weber Morales, Terrence Brewer and Sandy Cressman. Her outstanding debut Azul (JAZZIZ Magazine 2012 Top Ten Critic's Poll, Latin Jazz Corner's Great Latin Jazz Albums from 2012, number 5 for best new talent 2012 Jazz Station blog), released by her label (Bijuri Records) and co-produced by Ray Obiedo, highlights her exquisite touch, rhythmic acuity, and melodic resourcefulness. Sajdera also leads and composes for a 6-piece jazz ensemble and a 10-piece jazz chamber orchestra with strings and horns, weaving together her roots in American and Brazilian jazz as well as European classical music to create a unique musical tapestry.
Sonata for Two Pianos is a three movement work inspired by the vast spectrum of genres found in North & South America and in Europe. The first movement (Allegro) borrows a rhythmic division of 7/4 from the great Brazilian composer Hermeto Pascoal and, in classical sonata form, constructs a new landscape featuring diminished scale melodies harmonized un 4ths for the 1st theme and lyrical, jazz-influenced tertial harmony for the 2nd theme. The second movement (Adagio) is a somber fantasy in G minor with repeated eighth notes in the main theme contrasted by an improvisatory declamation in the middle of the piece. The Hungarian composers Bartok, Kodaly and Rozsa are the primary inspiration for this movement. The last movement dynamically explores diminished scale harmony, closing with a Stravinsky-like driving motif.Imagens para dois pianos is a growing collection of delicate vignettes that are intended to bring to mind images and atmospheres in sound. The first (Choro) marries the rhythmic & melodic flow of Brazilian choro with the impressionistic freedom of modal harmony. Stylistically, the piece is inspired by the Brazilian composer Guinga and other composers of the modern choro genre. The second imagem (Valsa) is a tribute to Ravel and has a joyful 4ths-based waltz vamp as its foundation, evoking the warmth and exhilaration of beautiful ballroom dance.
Davide
Verotta
 studied piano at the Milano and San Francisco Conservatory, and privately with Bob Helps and Julian White, composition at San Francisco State University (MA), and the University of California at Davis (Post Doctoral), as well as having had a parallel-track academic life in mathematics as a professor at UCSF. He is actively involved in the new music scene (as player, board member and pianist with SFCCO and NACUSA SF, FCM, Irregular Resolutions). He teaches piano and composition privately and at the CMC in San Francisco. Recent compositions include works for opera, orchestra with the Berkeley Symphony, SFCCO, Awesome orchestra, a variety of solo instruments, percussion, and various chamber ensembles. He is recipient of multiple ASCAP Plus and Zellerbach foundation awards, and recently won second price with his
Eleven Pieces for Piano
 in the international piano composition competition Opus Dissonus. His writing has been defined as alternating 
lyrical and dreaming landscapes
 with 
overwhelming musical motions; 
the idiom used in his compositions is a 21st century mix of neo-tonality,modern techniques, classical structures and experimentation.
For more information, recordings, videos, please visit his web site at 
www.davideverotta.com
.
Unhinged is a four-movements composition for two pianos with optional electronic. It opens with a sparse introduction intertwined with thunderous electronic effects that leads to a much a faster, aggressive and dense section. The second movement is a sparse piano duet in which the players mostly alternate with each other in a sort of slightly deranged chorale.The third movement has one of the pianos rather obsessively repeating a slowly changing relatively fast pattern while the second plays at a very different slower pace.  The movement builds up strongly before tapering down to a sparse aftermath. A final tumultuous movement concludes Unhinged. The percussive and melodic material for the piece is derived from the name Shibuich, an alloy that can be produced in a range of subtle, muted shades of blue or green, it was mostly used for ornament fittings for katana Samurai swords.
Crisp is a single-movement composition for two pianos. It opens with a short, slow exposition of a first theme that quickly takes the listener into the main theme of the piece: highly recognizable, "crisp" and whimsical but with a hint of unsettlement. What follows is a relatively long section in which the crisp theme is developed, speeded up, overlapped with the slow theme while at the same time foreshadowing the dramatic development that will follow. At the end of the section the crisp theme is heard again but it breaks down, eventually supplanted by a third theme: a sequence of dramatic chords heard in the high register of the second piano. The piece evolves, playing on the contrast of character of the three themes and progressively speeding up and increasing its dramatic, almost tragic, content. Eventually we reach a climax where the first and third themes merge in a last dramatic enunciation. Two possible endings close the piece. In the first the crisp theme is shortly revisited and ends with a whisper; the second ending does the same but ends with a suddenly defiant tragic statement.