C4NM Encore Concerts – a free new online series broadcasting concerts from seasons past – presents:
HUSH Music Campout, featuring the music of Ólafur Arnalds
Join us for the first in a series of C4NM Encore Concerts – a chance to relive some of our favorite live performances at 55 Taylor, and a chance to reconnect with our community despite social distancing. Curators and artists will join in on the conversation in real-time to answer questions and discuss musical topics. To watch, just log in at the event time and look for a 'Facebook Live' video available on both our main page and this event page.
About HUSH Music Campout:
Hang out and enjoy minimal, mellow chamber music by Ólafur Arnalds, performed by C4NM curator and violinist, Julia Ogrydziak, and friends. Each piece will be accompanied by a tiny poem to ponder as you listen.
Featuring works from Skissur by Ólafur Arnalds including Undan Hulu (The Cello Song), Near Light, Poland, 3326, Erla's Waltz, Lag Fyrir Ömmu, Beth's Theme, Ljósið, Words of Amber, and Tomorrow's Song.
About the music makers and storytellers:
Julia Ogrydziak, Ringleader, Violin. Julia is a violinist and artistic director, drawing inspiration from art, technology, and culture. She has performed worldwide, from aircraft hangars to Lincoln Center. A (previous) curator at the Center for New Music and a member of Capacitor Performance, she studied at MIT, Harvard, SFCM, and NEC. In her 'day job,' she is an entrepreneur and digital product designer, the founder of five companies and counting. — julia-o.com
Cynthia Mei, Violin. Cynthia founded and directed the Adorno Ensemble, an award-winning contemporary group. She currently plays in the tango ensemble, Seth Asarnow y su Sexteto Tipico, and is the Individual Giving Director at SFJAZZ. Cynthia is an alum of the Manhattan School of Music.
Julie Michael, Viola. Julie is a native of Columbus, Ohio. Currently based in Oakland, she can be heard performing with the Amaranth Quartet, sfSound, and the Eco Ensemble. — juliemichael.weebly.com
Gianna Abondolo, Cello. Gianna, performer, composer/improviser, has composed for dance and theater companies in California as well as scoring for film. A former member of the L.A. Philharmonic, she teaches at Mills College and privately. — giannaabondolo.com
D. Riley Nicholson, Piano. Riley is a composer, pianist, and percussionist. His style is rich in metaphor, and is modern yet accessible. Riley recently released his third full-length album, The Resurrection of Everyday People. — rileynicholson.com
Adam Fong, Glockenspiel. Adam is a composer, performer, and producer of new music, and the co-founder of Emerging Arts Professionals and the Center for New Music. — centerfornewmusic.com
Kurt Bodden, Storyteller. Kurt has done a lot of improv, sketch comedy, standup, and a solo show that satirized self-help. Nowadays he works as a user-experience designer and occasionally teaches physical comedy. — kurtbodden.com
ABOUT THE HUSH SERIES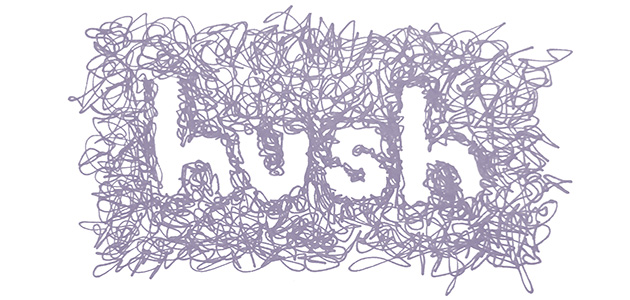 The HUSH Series, created by Center for New Music curator Julia Ogrydziak, explores sound as meditation. We feature artists and works which suspend us in time, giving us space and a moment to breathe in a hectic world.