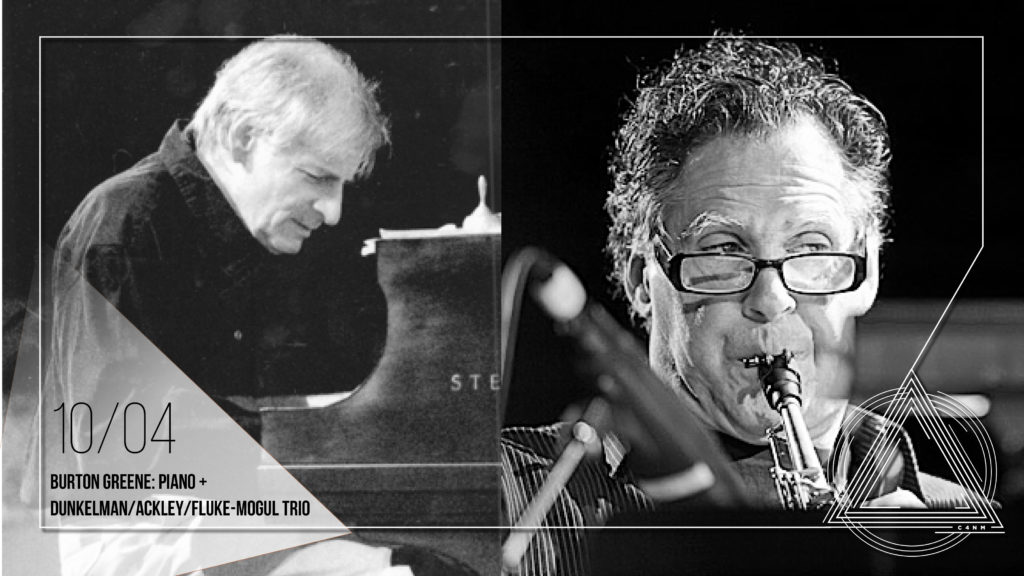 During a rare visit from Amsterdam, Burton Greene will present a set of solo piano works and improvisations. Greene has roots in the New York new jazz scene of the mid-1960s and has maintained an active career in Europe for several decades. Gabby Fluke-Mogul, violin, and Bruce Ackley, saxophones, will play duets in an opening set, and then join Greene for a trio.
Originally from Chicago, Burton Greene began his long career of many recordings and performances in New York´s legendary jazz scene of the 1960's. He and Bassist Alan Silva contributed to the beginnings of free jazz in New York with the formation of their Free Form Improvisation Ensemble in 1963. The group was asked to join the legendary Jazz Composers Guild created by Cecil Taylor and Bill Dixon (1964-65). Burton also co-founded the East West Trio with Indian sitarist Jamaluddin Bhartiya and percussionist Daoud Amin in 1973, one of the first World Music groups (long before that term was coined). Since that time he has traveled all over Europe and the USA, presenting performances and recordings of his compositions and arrangements in many different types of music styles and ensembles. As Burton says it: "Music is or should be universal, without limits. Borders eventually become boring, they should be transcended."
Burton's solo piano concert program of his recent compositions was presented in the spring of 2013 in a 12-concert tour in the States, and in Europe together with a film about his life and music "Moldavian Blues" by the English documentary film maker Malcolm Hart. Recent releases (2015) include "A 39 Year Reunion Celebration", a duo with Laurence Cook on Drums, (Boston–Studio 234 label), and "Flower Stalk—Burton with Open Field String Trio", (Cipsela label– Portugal). Burton's most recent release is on Improvising Beings (May 2017), his recent music on a double CD: "Compendium 2016-2017" recorded at the Goethe Institute and Bim Huis in Amsterdam. And, just out: (2019) "Life's Intense Mystery" on the Astral Spirits label with Damon Smith and Rakalam Bob Moses, and on Cadence Jazz records: "Post Monk Songbook" with co-composer/ flutist Tilo Bauimheier.
Burton's music is featured on close to 90 recordings: records and CD's. This year he celebrates 57 years as a professional: presenting his music to the world.
Gabby Fluke-Mogul and Bruce Ackley have been drawn together to explore duo music, based on their mutual interest in exploring the edge of the moment through improvisation. The blend of their instrumental voices is achieved through close listening, and carefully crafted soundscapes. They will perform with local percussionist Nava Dunkelman.