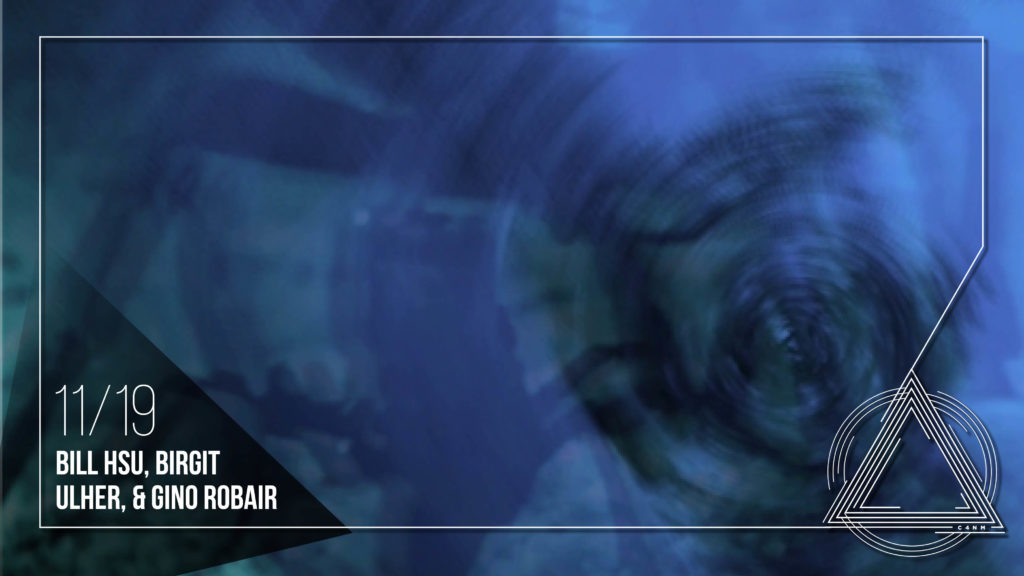 An evening of audio-visual improvisations with Birgit Ulher (trumpet, radio, speaker, objects), Bill Hsu (video, electronics), and Gino Robair (electronics).
Birgit Ulher studied the visual arts, which still have an important influence on her music. Since moving to Hamburg in 1982 she has been involved in free improvisation and experimental music. She works mainly on extending the sounding possiblities of the trumpet and has developed her own extended techniques and preparations for producing these sounds.
Since 2006 she works with radiosounds, using extended speakers, fed with radio noise in her trumpet mutes. The trumpet functions as an acoustic chamber and modulates the radio noise, thus the trumpet is transmitter and receiver at the same time.
Her solo work includes pieces with tape (Traces and splitting 21, a collaboration with Michael Maierhof) as well as pieces for sound installations. She performs solo and with her working ensembles, collaborates with dancers, visual artists, composers and musicians from around the world. She has given lectures und workshops at Haifa University, SAIC – School of The Art Institute of Chicago, Hochschule für Musik Basel, The Queen's University in Belfast, Galeria Mérida, Mexico and Anahuac 33 in Mexico City.
She has performed at festivals in Europe, USA, South America, Russia, the Middle East and Australia, such as Warsaw Autumn, Szünetjel Festival in Budapest, High Zero in Baltimore, On the Outside in Newcastle, Kaleidophon in Ulrichsberg, FONT Festival in New York, The Now Now Festival in Sydney, SoundOut Festival in Canberra, Densités in Wesnes-en-Woevre, Teni Zvuka Festival in St. Petersburg, Concepts of Doing in Berlin, Tsonami Festival in Valparaiso – Chile, Umbral Anniversary in Mexico City among others. http://www.birgit-ulher.de
Bill Hsu works with electronics and interactive animations. He teaches and does research at San Francisco State University. http://unixlab.sfsu.edu/~whsu/art.html
Gino Robair has performed and recorded with Tom Waits, Anthony Braxton, John Zorn, Nina Hagen, Terry Riley, Lou Harrison, John Butcher, Derek Bailey, Peter Kowald, Otomo Yoshihide, and the Rova Saxophone Quartet. He is one of the "25 innovative percussionists" included in the book Percussion Profiles (SoundWorld, 2001), as well as a founding member of the Splatter Trio and Pink Mountain. His opera, I, Norton, based on the life of Norton I, Emperor of the United States, has been performed throughout North America and Europe.