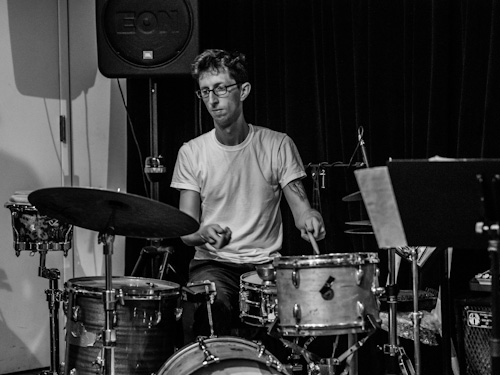 Drummer/percussionist/composer Jordan Glenn presents works for his ensemble Mindless Thing, a unique chamber configuration that combines strings and percussion with the surreal, haunting spoken poetry and flute improvisations of fellow Oakland improviser Jim Ryan. Glenn's music, for his stellar groups Wiener Kids, Mama Long Legs, Host Family, and most recently, the gloriously sprawling Wiener Kids Family Band, is some of the most fun (funny, even) and imaginative music anyone is writing for improvisers. It floats and grooves, explodes in frenetic rhythmic cartoon tirades, melts into chord progressions that glow with an innocent pop sweetness, and delivers an intangible feeling of nostalgia in its clarity and directness. It is that rare music that somehow manages to be truly entertaining while also conceptually compelling, quirky and substantial in just the right balance. The first set features Mindless Thing with spoken poetry; the second set is instrumental, with guest instrumentalists augmenting the group.
Jim Ryan, flute and spoken poetry
Damon Waitkus, hammered dulcimer
Karl Evangelista, electric guitar
Michael Coleman, piano/keyboards
Scott Siler, vibraphone
Jordan Glenn, percussion/conductor
with special guests:
Jason Hoopes, acoustic bass
Crystal Pascucci, cello
Kyle Bruckmann, oboe

Photo: Peter Gannushkin / downtownmusic.net
*This performance inaugurates the Best Coast Jazz Composers Series, a new monthly concert series showcasing the extraordinary and singular talents of some of the Bay Area's most creative and prolific jazz artists. The series feature local composers in evening-length profile concerts that explore several aspects of their diverse musical personalities, and celebrates the emergence of an eclectic, innovative and wildly creative New West Coast Sound in jazz. Curated by Lisa Mezzacappa.
Upcoming dates:
Friday September 6 – Phillip Greenlief
Friday October 25 – Aram Shelton
Friday November 8 – Randy McKean