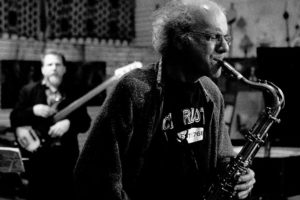 New Hells: Which is the Right Choice for you and your Family?
Compositions from Winter 2013-14, bolstered by improvisations
String Trio
Masha Albrecht, violin
Sarah Willner, viola
Mary Artmann, cello
Reeds Duo
Dan Plonsey, saxophones and clarinets
Randy McKean, saxophones and clarinets
with
Mantra Plonsey, voice
Lynn Murdock, keyboards
and
Costumes by Dan Plonsey
Composer and reed player Dan Plonsey is one of the most unique and unconventional voices in the Bay Area creative music community. High school math teacher by day, and by night a wizard of a bandleader, creating through-composed, idiosyncratic sonic worlds that sound like absolutely like nothing else, Plonsey leads the inimitable ensemble Daniel Popsicle and has collaborated on theater works with Harvey Pekar, Dandelion Dancetheater and Theatre of Yugen. His music is nerdy and goofy, intellectually fascinating and outlandishly juvenile at once, and celebrates a special kind of musical vulnerability and ensemble collectivity. Here, a string trio and reeds duo, with special guests, perform recent works.
Says Plonsey, "Most important to me at this time is to write music that I think would be fun to play, both while practicing the individual parts, and to play them together in these small ensembles. Yet it is inescapably music of El Cerrito, and as such reflects the colors of this quiet community, along with its mix of Vietnamese, Thai, Mexican, and American diners. Giant paper costumes will be worn at times to invoke the Public School Demons with whom I wrestle daily as a high school math teacher – they are winning the battle, creating new hells which, though new, are still of the authoritarian model."
The Best Coast Jazz Composers Series at the Center for New Music showcases the extraordinary and singular talents of some of the Bay Area's most creative and prolific jazz artists. The series feature emerging and established composers from the Bay Area, Southern California and the Pacific Northwest, in evening-length profile concerts that explore several aspects of their diverse musical personalities, and celebrates the emergence of an eclectic, innovative and wildly creative New West Coast Sound in jazz. Curated by Bay Area bassist and composer Lisa Mezzacappa.
Upcoming dates:
Saturday May 24: Jacob Zimmerman

5: Dan Plonsey (NOISY PEOPLE) from tim perkis on Vimeo.