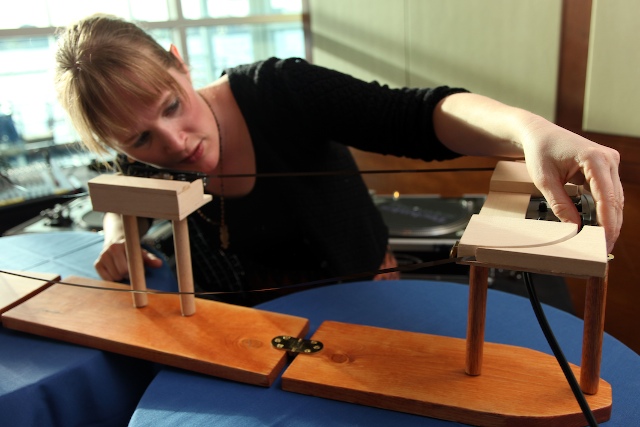 "Brecht sees the future" weaves together incantations for voice and home-made analog live looper (the tape machine) with the premier of a setting of Brecht's prescient poem "For Those Who Come Later" set for voice, live processing, and dancer. Using Brecht's 1940 poem as a grounding point, this piece explores where we have come in the last seventy-five years and where we are going.
"There's no place like home" uses fragments, distortions, and developments
of melodies to create stream-of-consciousness sonorous environments.
Working with improvisers Josh Marshall (saxophones) and Erika Oba (flute),
Herndon distills meaning and motion using graphic and traditional notation,
perception, and memory.
About:
Anne Hege (composer/performer) is a composer, performer, and conductor based in the bay area. Hege has an MA in Music Composition from Mills College and completed her PhD in Music Composition at Princeton University where she studied embodied cognition theory and multimedia analysis. She has composed for film, installation art, dance, and concert settings. Since 2008, Hege has composed musical scores for choreographer Carrie Ahern. The New York Times praised her score for Ahern's SenSate as "convincing" and "strangely environmental." Influenced by her deep listening practice, her latest compositions lie somewhere between ritual, music, and theater with some homemade instruments thrown in for good measure. For more information, go to www.annehege.com
Julie Herndon is a California-based composer and performer working with
internal/external space, improvisation, text, graphics, and electronics.
Her compositions and installations have been featured abroad in Italy and
Singapore, as well as in the U.S. at venues including the Hot Air Festival
in San Francisco, Megapolis Audio Art Festival in Oakland, Zen Mountain
Cloud Center in Santa Fe, and Eureka! Musical Minds in Santa Cruz. Julie
graduated from Mills College and is a doctoral student at Stanford
University. For more information, visit www.julieherndonmusic.com
MaryStarr Hope (dancer) is a contemporary movement artist based in San Francisco. Her background includes theater, performance art, concert dance and aerial arts. MaryStarr studied Dance Performance and Composition at California Institute of the Arts and holds a Certificat Professionel from La Conservatoire Nationale de Musique et de Danse in Paris, Fr. She has performed professionally with dance companies in Los Angeles, Paris, Chicago, New York and San Francisco. Currently MaryStarr can be found dancing on buildings, bridges and cliff walls with the aerial and apparatus based dance company Flyaway Productions.