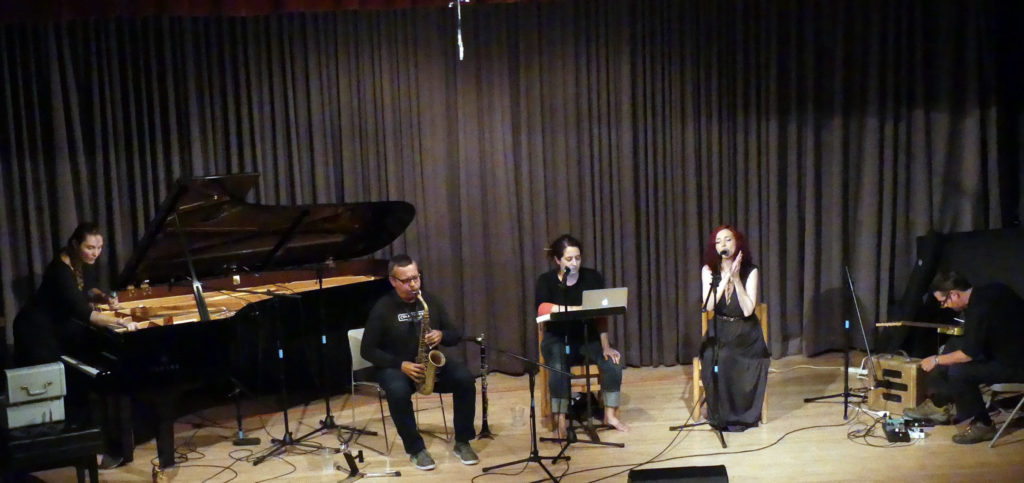 animals & giraffes: Experiments in Sonic Potential at the Contemporary Jewish Museum
C4NM and the Contemporary Jewish Museum co-present and co-curate Experiments in Sonic Potential which invites musicians from the Bay Area's rich improvisational and experimental community to perform live in conversation with Annabeth Rosen's ceramic sculptures, currently exhibited at the museum. Performances are at the Contemporary Jewish Museum, 736 Mission Street, San Francisco, CA 94103.
About animals & giraffes
Phillip Greenlief and Claudia la Rocco met during an artist residency at Headlands Center for the Arts in 2013. Greenlief asked la Rocco to provide text for his map score QUARTET, and the work was performed at the Center for New Music on their Best Coast Composers series. This initial collaboration inspired them to form the project animals & giraffes, an ever-changing ensemble exploring improvisation with artists from different disciplines. Animals & giraffes was ensemble in residence at the Center for New Music (San Francisco) from October 2017–October 2018, where they performed two interdisciplinary concerts and engaged in monthly "improv happy hour" sessions with various Bay Area improvisers from music, dance, literature, and the visual arts. Animals & giraffes have performed in Los Angeles at Pieter, the Scottsdale Museum of Contemporary Art, the Lab (SF), the Outsound New Music Summit, and Reed College (Portland). They have produced two CDs—JULY, released on the Edgetone records label and LANDLOCKED BEACH on creative sources (Portugal).
Claudia La Rocco is the author of the selected writings The Best Most Useless Dress (Badlands Unlimited) and the chapbook I am trying to do the assignment ([2nd Floor Projects]). Her San Fracisco novels petit cadeau and Interstitial were published in print, performance, and digital editions by The Chocolate Factory and Michelle Ellsworth's Man Pant Publishing. La Rocco has writing in numerous anthologies and publications, including Artforum, I Like Softness (Ugly Duckling Presse), and The New York Times, where she was a critic and reporter from 2005–2015. She has received grants and residencies from such organizations as the Doris Duke Charitable Foundation, Creative Capital/Warhol Foundation, and Headlands Center for the Arts, and her work has been presented by The Walker Art Center, The Kitchen, The Whitney Museum of American Art, et al. She is editor in chief of SFMOMA's interdisciplinary commissioning platform Open Space.
About the Exhibition 
Annabeth Rosen: Fired, Broken, Gathered, Heaped is the first major survey of Annabeth Rosen (b. 1957 Brooklyn, NY), Robert Arneson Chair at UC Davis, and 2018 Guggenheim Fellow.
For over two decades, Rosen has interrogated the medium of ceramics in the context of contemporary art. Featuring ceramics and works on paper from over twenty years, this groundbreaking exhibition examines how Rosen's work radically defies the limits of her primary medium, pushing it beyond spectacle and into conversations about contemporary painting, feminist theory, endurance-based performance, and conceptual art.