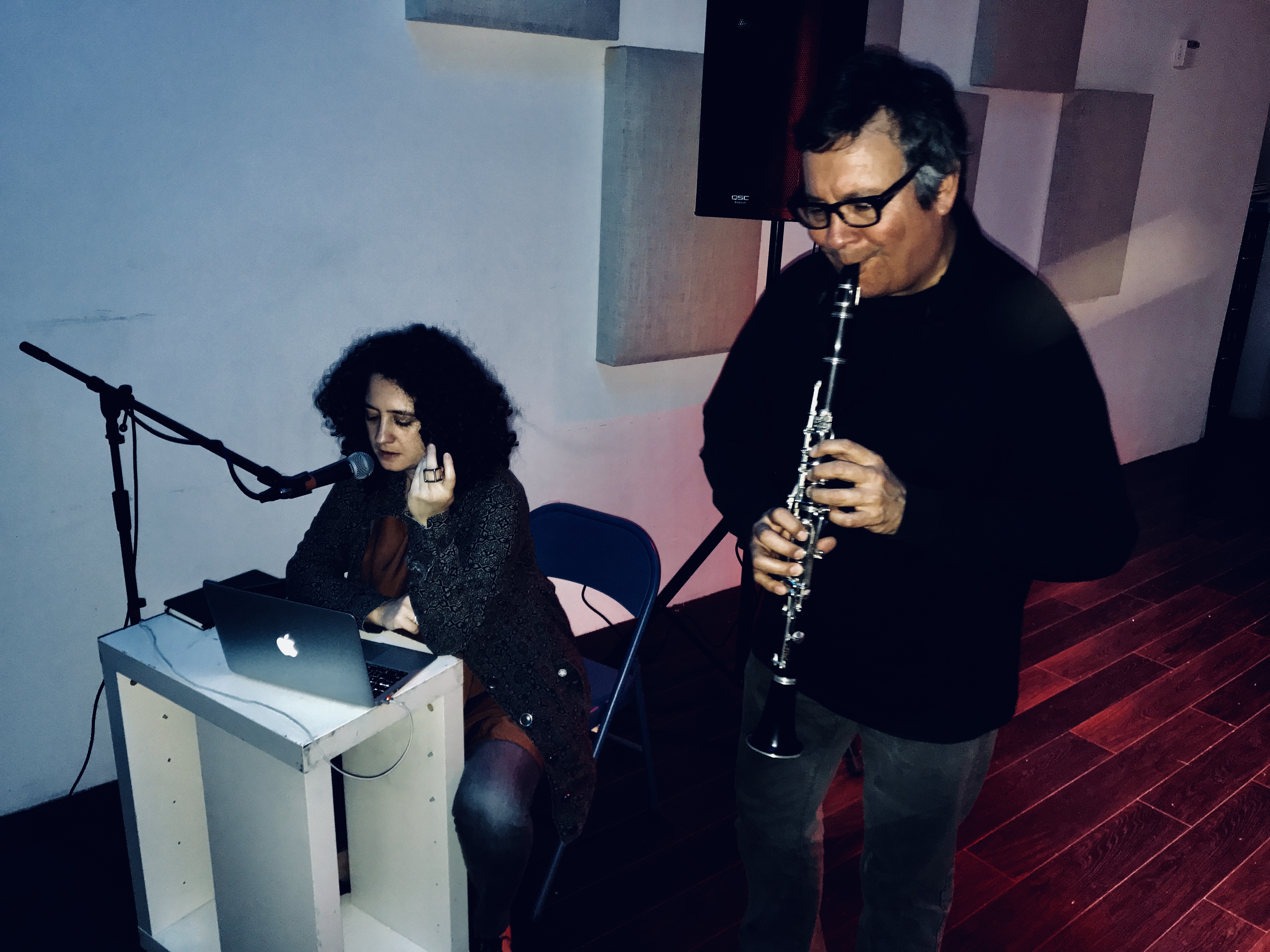 To finish up their year-long residency at the Center for New Music, animals & giraffes presents two sets of interdisciplinary improvisation. The evening also celebrates LANDLOCKED BEACH, their new CD release on the Creative Sources label (Portugal).
set one
animals and giraffes
Phillip Greenlief – tenor saxophone, Bb clarinet
Claudia La Rocco – voice, text
with special guests
Jesse Hewit – movement
Kip Kipperman – contrabass
Anne Walsh – text
Zachary James Watkins – electronics
set two
animals and giraffes
with special guests
Thomas Dimuzio – electronics
Wobbly – electronics
Since his emergence on the west coast in the late 1970s, Evander Music founder and saxophonist Phillip Greenlief has achieved international critical acclaim for his recordings and performances with musicians and composers in the post-jazz continuum as well as new music innovators and virtuosic improvisers. He has performed and recorded with Fred Frith, Meredith Monk, Nels Cline, and They Might Be Giants; albums include THAT OVERT DESIRE OF OBJECT with Joelle Leandre, and ALL AT ONCE with FPR (Frank Gratkowski, Jon Raskin, Phillip Greenlief).
Claudia La Rocco is the author of the selected writings The Best Most Useless Dress (Badlands Unlimited) and the novel petit cadeau (The Chocolate Factory Theater). Her poetry and prose have been published in 6X6 #34: I Like Softness (Ugly Duckling Presse), Imagined Theatres: Writing for a theoretical stage (Daniel Sack, ed; Routledge), On Value (Ralph Lemon, ed; Triple Canopy), et al. She has received grants and residencies from such organizations as the Doris Duke Charitable Foundation, Creative Capital/Warhol Foundation, and Headlands Center for the Arts. La Rocco has bylines in numerous publications, including ARTFORUM, BOMB, and The New York Times, where she was a critic from 2005-2015. claudialarocco.com.
Jesse Hewit is an artist and curator living in San Francisco. He has performed and taught his work internationally, and is currently working on a new dance about embodied protest, and on his first book, a collection of three longer essays about erotic memory, happiness, and family. He is supremely happy for the opportunity to go IN with animals and giraffes..
Kip Kipperman is a musician, composer, improviser, sounder, listener, and teacher currently based in the San Francisco Bay Area. ​Interested in how personal aspects of oneself are negotiated and translated into improvisation of all kinds, they are focused on the possible healing qualities of embodying oneself and building community through sonic improvisation, body movement, dreamwork, mindfulness, radical education, and political activism.
Anne Walsh is a visual artist and writer. Her recent solo exhibitions have taken place at The Luggage Store gallery in SF and Commonwealth and Council in Los Angeles. Her first book, Hello Leonora soy Anne Walsh, will be published by No Place Press in Spring 2019. Walsh is Associate Professor in Art Practice at UC Berkeley.
San Francisco-based Thomas Dimuzio is an unsung artistic figure whose influence and abilities have substantially outstripped his visibility. Composer, collaborator, experimental electronic musician, multi-instrumentalist, improvisor, sound designer and mastering engineer – Dimuzio has been doing his thing(s) since the late 1980's, but is still known to a small circle of electronic music enthusiasts. A true sonic alchemist who can seemingly create music events out of almost anything, Dimuzio's listed sound sources on his various releases include everything from "modified 10 speed bicycle" and "resonating water pipe" to short-wave radios, field recordings, loops, samplers and even normal instruments such as clarinet and trumpet.
WOBBLY / Jon Leidecker has been producing music under the name Wobbly since 1990, improvising with recordings to produce music which inherently resists the act of being captured. Wobbly's live and studio collaborations include work with Negativland, Dieter Moebius & Tim Story, Matmos, People Like Us, Fred Frith, Zeena Parkins, Carl Stone, John Oswald, Thomas Dimuzio, Sue C., a quartet with Thurston Moore, David Toop &Tania Chen, The Freddy McGuire Show and Sagan. In 2015 he inherited Negativland's long-running Over The Edge radio collage program, which continues to be broadcast twice a month on Berkeley's KPFA FM.
Zachary James Watkins studied composition with Janice Giteck, Jarrad Powell, Robin Holcomb and Jovino Santos Neto at Cornish College. In 2006, Zachary received an MFA in Electronic Music and Recording Media from Mills College where he studied with Chris Brown, Fred Frith, Alvin Curran and Pauline Oliveros. Zachary has received commissions from Cornish College of The Arts, The Microscores Project, the Beam Foundation, Somnubutone Radio Series free103point9.org, sfsound and the Seattle Chamber Players. His 2006 composition Suite for String Quartet was awarded the Paul Merritt Henry Prize for Composition and has subsequently been performed at the Labs 25th Anniversary Celebration, the Labor Sonor Series at Kule in Berlin Germany and in Seattle Wa, as part of the 2nd Annual Town Hall New Music Marathon featuring violist Eyvind Kang. Zachary has performed in numerous festivals across the United States, Mexico and Europe and his band Black Spirituals opened for pioneering Drone Metal bandEarth during their 2015 European tour.