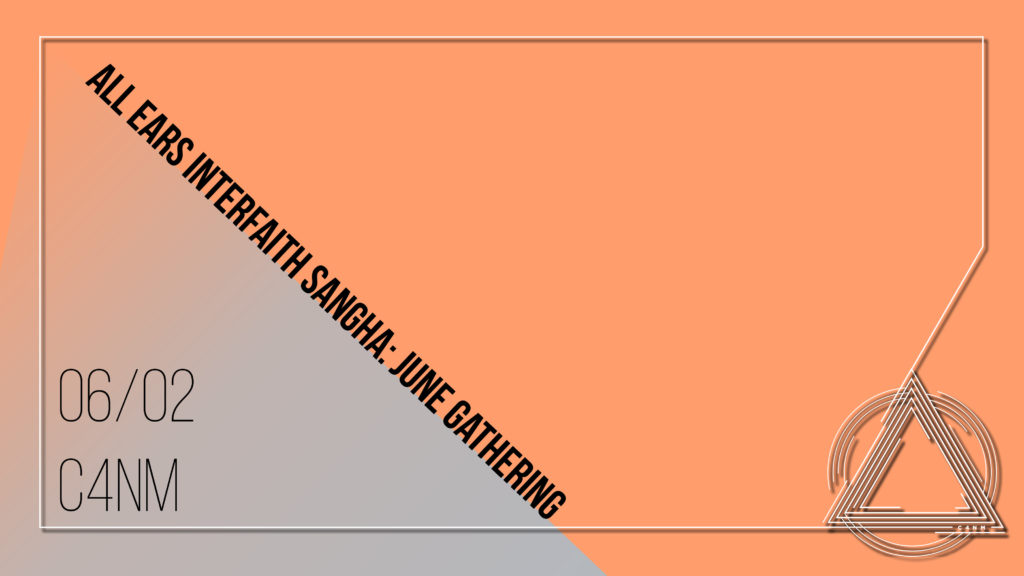 Center for New Music will host the June gathering for the All Ears Interfaith Sangha!
Free admission! You are invited (not required!) to bring a dish to share for dinner after the program.
Join us in performing sound meditations and connecting with one another, ourselves, and with Spirit through creation and awareness of sound.
Celebrating love this month, we will perform Pauline Oliveros' Worldwide Tuning Meditation, and Heart Chant, and sonic meditations led by Andrew Jamieson and Soyinka Rahim. Our vocal and instrumental "orchestra" will also help expand our sound pallet, and lead us in Pauline Oliveros' Worldwide Tuning Meditation.
The All Ears Interfaith Sangha works to cultivate a spiritual community of musicians—with the understanding that anyone can be a musician, regardless of training, background, and profession, if they choose to interact with sound in critical and creative ways. Rather than attempting to create a space that is strictly neutral with respect to faith/nonfaith beliefs and traditions, we intend to celebrate any faith/secular traditions that are meaningful to participants, with an emphasis on healing, meditation, self-exploration and community-building. We strive to elevate traditions and voices that are marginalized in our unjust society, and do our best to challenge racism, sexism, heterosexism, classism and European secular/Christian cultural dominance, while acknowledging these as the context that surrounds our community and has shaped traditions and institutions of faith themselves, and believing that Spirit can transform us in spite of the presence of unjust forces.
Each month, we will gather to perform Sonic Meditations of Pauline Oliveros, alongside new sonic and meditative experiences. Afterwards, we will gather for a community meal, with space for both formal and informal conversation to discuss the experience of listening, and connect with fellow Sangha participants.
The All Ears Interfaith Sangha usually meets (in various locations) the first Sunday of every month at 5:30pm for about an hour, gathering for a meal around 6:30.