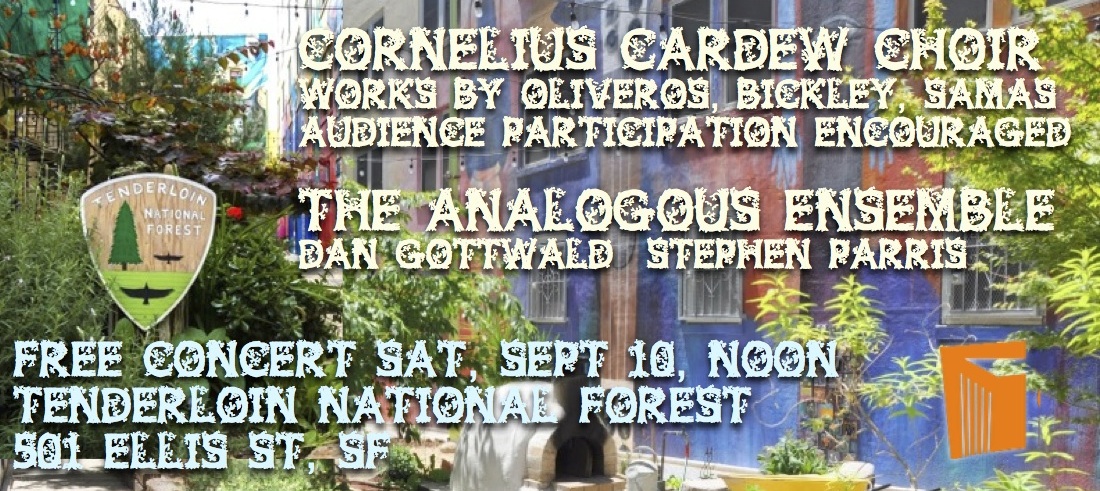 Saturday, September 10
12pm FREE concert @ Tenderloin National Forest
501 Ellis Street, San Francisco
Cornelius Cardew Choir
Directed by Tom Bickley
Audience participation encouraged
Wind Horse, Pauline Oliveros
Environmental Dialogue, Pauline Oliveros
7 Humms 7 Times, Tom Bickley
Forest Walk, David Samas
The Cornelius Cardew Choir is a SF Bay Area-based vocal performance ensemble. Situated at the intersection of community & experimental music, these professional, amateur, & novice singers work collectively to turn ideas into sonic action. We recognize our music-making as enacting healthy political economy, with respect for individual contributions and high regard for the community as a whole. The choir is named in honor of Cornelius Cardew (1936-1981), an English composer and political activist. Please visit our Facebook page.



Saturday, September 10
2pm FREE concert @ Tenderloin National Forest
501 Ellis Street, San Francisco
the Analogous Ensemble
Dan Gottwald, Stephen Parris, et al.
The Analogous Ensemble is a collection of new instruments designed and built by artist Dan Gottwald. His aim is to blend object and sound in performance of new music.
Gottwald's unique instruments can be seen in the upcoming Market Street Prototyping Festival and accompanying various dance companies throughout the Bay Area. He holds a MFA in electronic music from Mills College and BFA in visual arts from the University of New Mexico.
For more information please visit dangottwald.com.
---
In May 2009 Cohen Alley was reclaimed as "The Tenderloin National Forest", but Luggage Store Co-Artistic Directors/Artists Darryl Smith and Laurie Lazer of the have been working to transform this alley since 1989. Originally a place emblazed in a health-hazardous cesspool of bodily fluids and other dumped items, non-supervised open-air chemical experiments and illicit – criminal activities — the Tenderloin National Forest is now a vibrant community commons where people of all ages can gather for public art, performance, experimental art projects, classes and activities… Driven by experimentation, cooperation, volunteerism, inclusion, dialogue and food.
Special thanks to the Luggage Store Gallery for co-hosting these events as part of Acoustic Habitats.