Thursday, August 1, 2019: 7:30 PM
Thollem McDonas + Rova Saxophone Quartet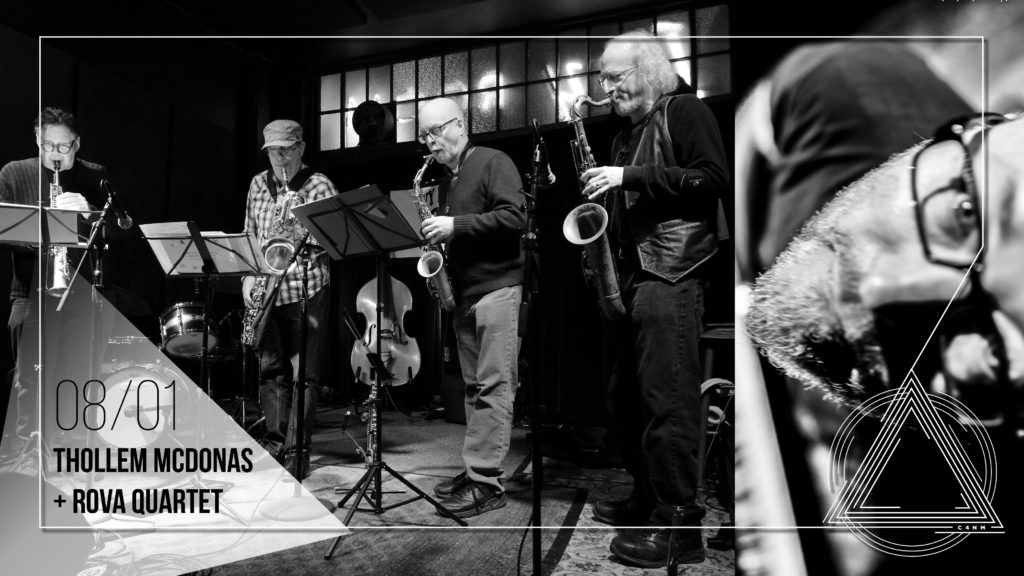 Photo Credits: Myles Boisen (L), Ariele Monti (R)
Serial collaborator and pianist Thollem McDonas is coming to the Bay Area in the midst of his 6-month U.S. tour. At the Center for New Music, he's joining forces with Rova Saxophone Quartet, one of the longest running ensembles in musical history. These are 5 masters of their instruments, who bring an extraordinarily wide array of techniques and experiences to their music.
Thollem McDonas has spent his life skirting and erasing the edges of boundaries musically, culturally and geographically. His work is ever-changing, evolving and responding to the times and his experiences, both as a soloist and in collaboration with hundreds of artists across idioms and disciplines. "Thollem is a modern griot who has absorbed sounds from every place he has visited." (William Parker) Born and raised in the San Francisco Bay Area, Thollem began playing the piano, composing and improvising as a child, absorbing the sounds of his culturally diverse upbringing. "He has an innate ability to compose transcendent music using the piano as his expressive voice and to explore the depth and range of the instrument like no one else. In Terry Riley's own words, Thollem McDonas is 'a true original'." (Joan Jeanrenaud)
"Thollem is half pianist, half hurricane" (Steve Holtje, Culture Catch)
Rova Sax Quartet is a group that can move you the way an Eastern European choir of voices can move you, but also a group with force, a force that can feel as if it's tearing the walls of the listening space down, or that can simulate the complex sound of a machine, or one of nature's wild phenomena, or conversely, the almost-silent overlapping sound patterns heard with eyes closed in a field in the wilderness. Rova Sax Quartet's musical goal has always been, since 1978, to instigate, to challenge, and to inspire. The group most often explores the synthesis of composition and collective improvisation, creating exciting, genre-bending music. Now in its 42nd year, Rova is one of the longest-standing groups in the music movement that has its roots in post-bop, free jazz, avant-rock, and 20th century new music; Rova draws inspiration from the visual arts, contemporary poetry, contemporary dance. We listen closely and deeply appreciate both the traditional and the pop music styles of Africa and Asia. And then there is the blues; always a key.

Bruce Ackley – soprano saxophone / Steve Adams – alto saxophone / Larry ochs – tenor saxophone / Jon Raskin – Baritone Saxophone