Thursday, September 15, 2016: 8 PM
Scordatura: Hannah Addario-Berry, cello & Gloria Justen, violins
Tickets: $15 General, $10 Members
Tickets available at the door only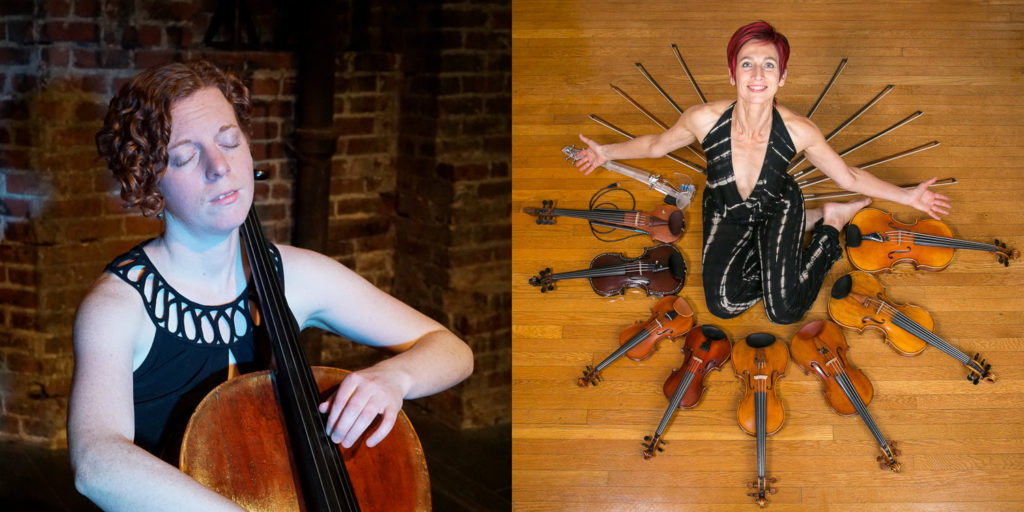 This double-feature concert presents solo string music for altered instruments.
Scordatura Volume 2
Following a highly successful North American tour, and the release of her solo album "Scordatura", cellist Hannah Addario-Berry presents the newest additions to the Scordatura program: "Parched" by Canadian composer and jazz cellist Kye Marshall, "What Cannot Be" by the Bay Area's own Durwynne Hsieh, and "Sonaquifer," a suite for scordatura cello by Gloria Justen.
addarioberry.com
Voices of the Violins
A high-voiced "piccolo violin"… a deep "baritone violin"… a seemingly-regular violin tuned strangely… a 5-stringed "violalin"…
Gloria Justen will take listeners on a journey exploring the unusual resonating voices of several different violins – each with a very different size and tuning.  She has been experimenting with various tunings and instrument sizes in order to trick herself into finding new compositional ideas and expressive possibilities. In brief introductions to her compositions, she will show how a violin's size and string tension help to create its sonic personality.
She begins her part of the program with a piece called Attunement, which is played on a regular-sized violin tuned in an old fiddler's pattern called "cross-tuning."   Next, let your ears surf on ripples of arpeggios from a tiny fairy's fiddle.  Then listen to her Sonata for Solo Violin, which includes a passionate Tango played on a sultry gypsy violin – with a lowered G-string. That piece also includes a Fugue and a technique often used in the Baroque period called "bariolage.""  Her part of the program ends with short pieces for two different sized (and tuned) violas, bigger siblings of the violin.
gloriajusten.com