Friday, July 7, 2017: 6 PM
MicroFest North: Opening Reception, Dennis Aman, Parsing the Octave
Tickets: Free!
Tickets available at the door only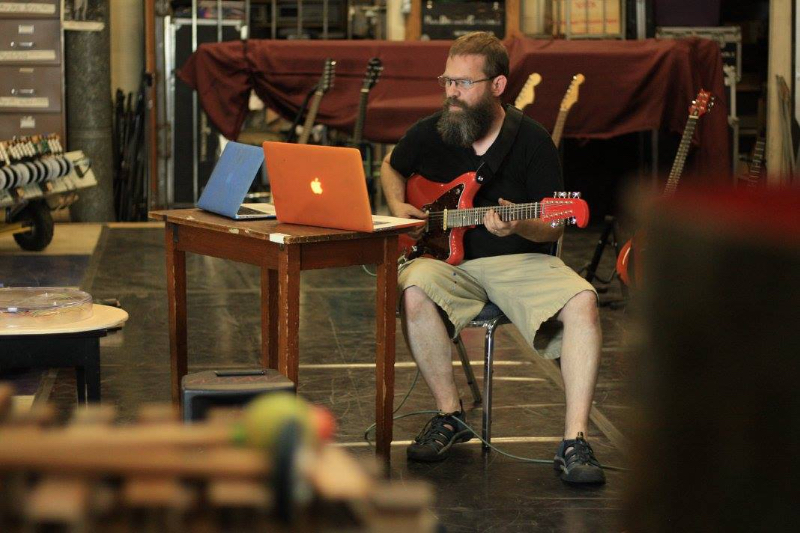 Opening reception, 6pm
Interview and brief demonstration of equal tempered instruments with Bart Hopkin, Dennis Aman and the Living Earth Show at 7
At this second opening reception of MicroFest North, experience the work of Dennis Aman and his furthering the work of Ivor Darreg in small equal temperaments.
"For the past few years, I have been building a set of instruments that will allow the duo The Living Earth Show (Guitarist Travis Andrews and percussionist Andy Meyerson) to perform on equal divisions of the octave 1 – 24. (Our common Western tuning system is 12 Equal Divisions of the octave) For the guitars, this means replacing frets in precisely the wrong place, but for the percussion instruments, this means tuning bars of wood or metal to specific notes that sit between the cracks of the piano's agreed upon pitch. Along the way, some instruments have suggested avenues for other instruments. Using a proximity sensor for a Theremin in the shape of Sputnik lead towards engineer Kristof Aldenderfer and I building an instrument that could be worn by a dancer. And a Jellophone, using the body's electrical resistance to trigger notes has led to instruments in the shape of anything that can fit into a mold. And while I prefer the purely acoustic sounds that come from wood or metal, it's hard to resist the creative opportunities that electronic prototyping kits like the Arduino and the Teensy afford. For example, working on the Go-Kart's optical gears suggested making a replica of Leon Theremin's 1931 Rhythmicon, seen by some as the world's first drum machine. With such a variety of tools and manufacturing methods available, surely one of the biggest challenges is focusing on a single project." -Dennis Aman
---
Dennis Aman, a native of the San Francisco Bay Area, studied Electronic Music at San Francisco State with Richard Festinger and Composition privately with Dan Becker. He was a chorister with the San Francisco Symphony Chorus, and is currently a member of the Cornelius Cardew Choir. His compositions have been performed in Lithuania, Ukraine, Japan and most recently at the "Eclectic Salon" at Villa Aurora in Los Angeles.
In addition to writing and performing, Aman is a producer and co-host of "Music From Other Minds," a weekly new music radio show on KALW 91.7 FM in San Francisco. He is passionate about modifying and building new acoustic instruments. Aman is currently completing a commission for Electric Guitar and Percussion duo, "The Living Earth Show." This extended work consists of 24 Preludes and Fugues in Equal Divisions of the Octave [1 through 24], as well as the building of microtonal instruments required to realize the piece.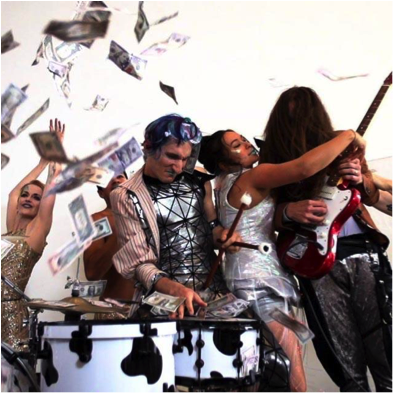 ​The Living Earth Show
Called "outstanding" by The San Francisco Chronicle, "transcendent" by The Charleston City Paper, "a vanguard effort of new chamber music" by The San Francisco Examiner, and "a fully distorted perpetual motion of awesome" by "I Care If You Listen", The Living Earth Show is a megaphone and canvas for some of the world's most progressive artists. Comprised of electric guitarist Travis Andrews and percussionist Andy Meyerson, the San Francisco-based ensemble uses the traditions of classical and experimental music as tools to allow artists of all disciplines to create their most ambitious works and respond to the world in which they live.
Memorizing every work it performs, The Living Earth Show thrives on pushing the boundaries of technical and artistic possibility in its presentation of commissioned electro-acoustic chamber music. The ensemble has commissioned and premiered works by such diverse composers as Anna Meredith, Timo Andres, Nicole Lizée, M. Lamar, Raven Chacon, Brian Ferneyhough, Samuel Adams, Ken Ueno, Luciano Chessa, Sharmi Basu, Ted Hearne, Jon Russell, Adrian Knight, Alden Jenks, Nick Vasallo, and Zachary James Watkins. Many of these commissions can be found on the group's critically acclaimed debut album, High Art (Innova Records, 2013) and its upcoming albums Dance Music (New Amsterdam Records) and TAFT (slashsound).
Upcoming productions include Aeolus, opera with Ken Ueno and Majel Connery, a new song cycle presented with and composed by Ted Hearne, a collaboration with Kronos Quartet and Youth Speaks, M. Lamar's song cycle Lordship and Bondage: The Birth of the Negro Superman, Dennis Aman's evening-length work 24 Preludes and Fugues, Nicholas Vasallo's Surrounding The Earth, a new work written for the ensemble by Raven Chacon, the collaborative performance project AFFIRMATIVE ACTION, and a new evening-length collaboration with Post:Ballet and composers including Samuel Adams, Andrew Norman, Daniel Wohl scheduled to premiere in 2019.
When not performing as The Living Earth Show, Andy and Travis also comprise 2/3 of the rhythm section of C O /\/\ /\/\ /\ /\/ D O, a musical juggernaut dedicated to dismantling heteropatriarchy through militant, violently queer rap metal.