Wednesday, May 23, 2018: 7:30 PM
HUSH Series – Anka Draugelates, In the River of Time

Visiting us from Bavaria, Germany, singer, violist, and composer Anka Draugelates brings us her transcendent works for viola and voice, performed by Anka herself. The compositions interweave polyrhythms, natural and unexpected time signatures and metrics, invented language, simple melodies, and free improvisation into a harmonious whole. In Anka's hands, the viola shapeshifts from guitar to banjo, from oud and back to viola once again. Her incredibly wide range of vocal techniques and ideas coupled with her joyful presence and devotion to the music take the listener to the middle of the moment, "im Fluß der Zeit" ( in the river of time). Anka will also be joined by special guests and long-time collaborators Cheryl E. Leonard and Kilta Rainprechter.

The concert will be followed by a wine reception.
"Anka Draugelates´s songs, compositions and improvisations burst with joy to lead the listener into imaginary spaces. She crosses all styles. Whether classic, ethnic, soul or "sing-a -songwriter". Anka Draugelates captures sounds, rhythms and melodies, resonates with her voice and instruments, and following her paths through the world of music, the singing woman dismisses the viola with something other than you were before."   —  Alexandra Karabelas (tanz-denken.de/)
About the Artists
Anka Draugelates, the german vocal artist and composer, sings as a solo artist and in ensembles in the US and Europe. She has trained with master voice teachers as Bobby McFerrin, Jean-René Toussaint, Jonathan Hart Makwaia and Lisa Sokolov. Draugelates has participated in solo and group shows throughout Europe, the United States and South Africa. She has received residencies and fellowships from Oberpfaelzer Kuenstlerhaus, Djerassi Artist Colony, Helen Bing and has won the "culture promotion price" of Regensburg. When in San Francisco, Anka collaborates and performs with Capacitor Dance and sound composer, performer, and instrument builder Cheryl E. Leonard. Learn more at anka-draugelates.de.
Cheryl E. Leonard is a composer, performer, and instrument builder whose works investigate sounds, structures, and objects from the natural world. Her projects highlight unique sounds and often feature amplified natural-object instruments and field recordings from remote locales. Leonard has been awarded grants from the National Science Foundation's Antarctic Artists and Writers Program, American Music Center, American Composers Forum, and ASCAP, and residencies at Djerassi, the Arctic Circle, Oberpfälzer Künstlerhaus, Villa Montalvo, and Engine 27. Visit her website at allwaysnorth.com.
Kilta Rainprechter is a german performer, dancer and choreographer. She studied and graduated as state certified gymnastics and dance teacher. After receiving the award of Neumüller-Artist-Scholarship from the City of Regensburg in 1996 she got further education in NYC/USA in the fields of modern and contemporary dance, acting and vocal arts. Find her online at kilta.cx.
About the HUSH Series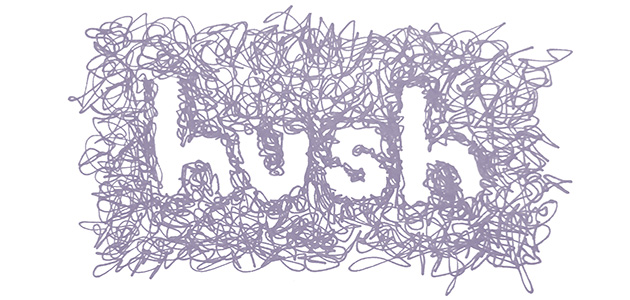 The HUSH Series, created by Center for New Music curator Julia Ogrydziak, explores sound as meditation. We feature artists and works which suspend us in time. Giving us a space and a moment to breathe in a hectic world.