Friday, May 23, 2014: 8 PM
CANCELED: Hoods, Chamber opera mashup of the Red Riding Hood and Hekabe Stories
Tickets: $15 General, $10 Members
Tickets available at the door only
THIS PERFORMANCE HAS BEEN CANCELED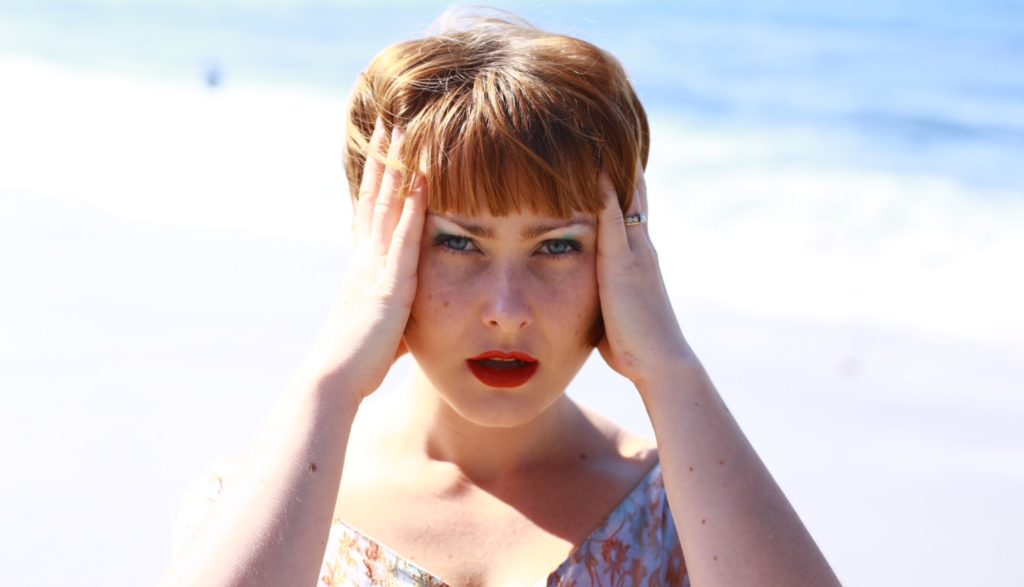 Hoods is a chamber opera based on Euripides' Hekabe and Little Red Riding Hood, parallel stories of women in extremis.
Setting myth and fairytale in the context of late empire and perpetual war, the opera explores themes of violence, gender, and metamorphosis. Three singers each play three roles from two alternating stories about women and wolves transforming into one another. Helicopters, ocean, and animal recordings subtly modulate and harmonize with chamber music reminiscent of Monteverdi and shape note songs. People are swallowed as shadows against a screen. Projected video projected enacts a shoreline, streaming war footage complicated by the unevenness of surface.
Hoods Ensemble Biographies
Singers
Stephanie Aston is a committed performer of contemporary music. She has participated in several American and world premiers, including Luigi Nono's Guai ai Gelidi Mostri, Michael Gordon's What to Wear, and George Aperghis' Sextuor: L'Origine des espèces. She has appeared on the L.A. Philharmonic Green Umbrella Series, CalArts Creative Music Festival, Et Cetera Festival of New Music, (Re)Sounds at Stanford University, and at REDCAT. Ms. Aston is an original member of the vocal ensemble Kallisti, and a founding member of the ROMP Ensemble. She has also performed with Riverside Lyric Opera, Red Fish Blue Fish, the La Jolla Symphony and Chorus, the CalArts Orchestra, the New Century Players, 18-squared, and ad-hoc ensembles at the Norfolk Contemporary Music Festival, UC San Diego, Stanford University, and in Los Angeles. Stephanie is currently an affiliated artist with San Diego New Music. Noteworthy Performances include John Zorn's Rituals, Phillipe Manoury's Cruel Spirals, Jason Eckardt's Tongues, John Adams's A Flowering Tree (Kumudha), Edgard Varese's Offrandes, Pascal Dusapin's To Be Sung, Igor Stravinsky's Les Noces, Alberto Ginastera's Cantata Para America Magica, and Kueiju Lin's Snow in June. Ms. Aston holds a D.M.A. from University of California San Diego, an M.F.A. from California Institute of the Arts, and a B.M. from University of North Texas.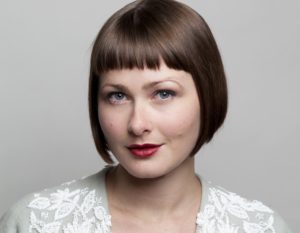 Soprano Jessica Aszodi specializes in adventurous repertoire. Her performances have garnered praise for their "…virtuosic whimsy" (New York Times) and "…upmost security and power…" (Chicago Tribune). The Los Angeles Times has called her singing "thrilling…" and 'The Australian' has described her as "…one of our greatest emerging talents." Jessica has performed with ensembles as diverse as ICE (International Contemporary Ensemble), Melbourne Symphony Orchestra, the Royal Melbourne Philharmonic Orchestra, Bang on a Can, Victorian Opera (where she was a young artist) and Eighth Blackbird. She has been a soloist on recording for Chandos and Cajid.She has sung in festivals around the world including the Aldeburgh Festival (UK), Tanglewood Festival (USA) the Macau International Music Festival (China), the Melbourne International Arts Festival and the Vivid Sydney Festival (Australia). Passionate about new and innovative work, Jessica has premiered more than 50 pieces. For her efforts commissioning and producing new work Jessica has received grants from the Australia Council for the Arts, the City of Melbourne and Arts Victoria. Her awards include two Greenroom award nominations for 'best female operatic performer' in both the leading and supporting role categories. Jessica holds a Masters of music performance from the University of California and a Bachelor from the Victorian College of the Arts (Melbourne, Australia).
Soprano Natalie S. Moran, a native Southern Californian, is best known for her vocal quality, character roles, and her musical and theatrical dedication. Natalie holds a Bachelor of Music in Vocal Performance from the University of Southern California Thornton School of Music and attended Oxford University. Natalie has performed throughout the US and Europe at venues including the Notre Dame Cathedral and the Walt Disney Concert Hall. She has also sung with the LA Philharmonic and the San Diego Symphony. Several of her operatic roles include Zerlina in Don Giovanni, Papagena and First Lady in Die Zauberflöte, the Witch in Hänsel und Gretel, and Adina in L'elisir d'amore. Companies she has sung with include Pacific Opera Project, Repertory Opera Company, Riverside Lyric Opera, and First Look Sonoma. She has participated in opera programs such as the Tyrolean Opera Program in Maurach am Achensee, Austria, the International Lyric Academy in Viterbo, Italy and the Riverside Opera Institute in Riverside, California. She is currently a Resident Artist at Riverside Lyric Opera, a member of the Los Angeles Muses, and a member of SACRA/PROFANA choral ensemble.
Instrumentalists
Born and raised in Melbourne, Australia, Samuel Dunscombe's artistic practice draws on a wide variety of influences. Originally trained as a contemporary classical clarinetist and an avid free improviser, he is also proficient in several programming environments for live audio digital signal processing, and has spent many hours taking field recordings in a wide range of locations – from the Amazon rainforest, the Mojave desert, Tasmanian old growth forests, to German train stations, US Air Force Bases, and English psychiatric hospitals, to name but a few. Samuel has worked with a diverse range of artists, including performances with Jaap Blonk, Marco Fusinato, David Shea, and Satoko Fuji, coding for performances by Anthony Pateras, and premiering works by composers including Klaus Lang, Anthony Pateras, Olga Neuwirth, and Ana-Maria Avram. He has undertaken residencies at WORM (Netherlands), and with Francisco López (Mamori, Brazil), and presented work at STEIM (Amsterdam), Cave 12 (Geneva), NK (Berlin), The Melbourne International Biennale of Exploratory Music (MIBEM), the Liquid Architecture Festival (Melbourne), and the Melbourne International Arts Festival. Samuel is currently studying for his DMA in music performance at the University of California, San Diego. This has been made possible by generous support from the Australia Council for the Arts, the Ian Potter Cultural Trust, the Keith and Elizabeth Murdoch Travelling Scholarship, and the Victorian College of the Arts.
Judith Hamann is a Melbourne-based musician whose main instrument is violoncello. Her performance practice stretches across various genres encompassing elements of improvised, art, experimental and popular music with a particular focus on the presentation of new or rarely performed works. Judith has undertaken lessons with cellists at the forefront of new music including Christian Wojtowicz, Charles Curtis, Severine Ballon and Kevin McFarland. She has performed as either a soloist or a chamber musician for the Melbourne International Arts Festival (2005, 2006, 2007, 2011), Melbourne International Jazz Festival (2010. 2011), the Crossbows Festival (2012), the Adelaide Arts Festival (2012) Liquid Architecture Festival (2010) and The NOW Now Festival (2011, 2012). Judith has also toured new Australian music internationally with performance highlights including Soopa (Portugal), Logos Foundation (Belguim), Data (Marseilles), Café Oto (London), Ausland (Berlin), Cruce (Madrid), Steim (Amsterdam), Worm (Rotterdam), Cave 12 (Geneva) and Amann (Vienna) and the United States premiere of Natasha Anderson's solo cello work written specifically for Judith at the Conrad Prebys Music Centre in California. Judith has performed Australian premieres of works by Sofia Gudbaidulina, Liza Lim, Thomas Meadowcroft, Jaap Blonk, Robert Ashley, Morton Feldman, Jani Christou, Olga Neuwirth and Klaus Lang, as well as the world premieres of commissioned works by Anthony Pateras, David Chisholm, Natasha Anderson, Rohan Drape, Marco Fusinato, James Rushford, Kate Neal, Sean Baxter, Robert Dahm and Cat Hope. Judith has worked on projects with artists including Jon Rose, Oren Ambarchi, Anthea Caddy, Carolyn Connors, BOLT ensemble, Arcko Symphonic Project and ELISION. She is also a member of Golden Fur, Atticus, Grand Salvo and Francis Plagne band.
An active proponent of new music, horn player Nicolee Kuester recently completed international tours with the Ensemble Intercontemporain and the Orquesta de Baja California, and has performed with the San Diego New Music Society, the Lucerne Festival Academy, and the Palimpsest Ensemble at UC San Diego. She has appeared with the San Diego Symphony, the San Diego Opera, and as a soloist with the La Jolla Symphony. Nicolee also writes and performs experimental text-based works dealing with conversation and the nature of human contact. She holds degrees in horn performance and creative writing from Oberlin Conservatory and UC San Diego.
Stephen Lewis (b. 1983) is a composer, pianist, and conductor originally from Western Massachusetts. Stephen has performed contemporary and classical music in solo and ensemble concerts at Miller Theater in New York, Severance Hall in Cleveland, the Walt Disney and Zipper Halls in Los Angeles, as well as at smaller venues throughout the United States. He has been commissioned by or written works for UC-San Diego's Palimpsest, the Diagenesis Duo, ensemble et cetera, Downbeat Means Attack, Trio Kobayashi, and a number of individuals. An outstanding collaborative pianist, Stephen is in demand as a professional accompanist and vocal coach. Stephen is currently a PhD candidate in Composition at UC-San Diego, where he studies with Rand Steiger. He also plans on earning his DMA in Contemporary Piano Performance, studying with Aleck Karis. Stephen is a graduate of the Oberlin Conservatory of Music, where he majored in both Composition and Piano Performance.
Michael Matsuno is an emerging flutist, dedicated to performing contemporary repertoire and the music of our time. He is a member of the Los Angeles-based What's Next? Ensemble, through which he has helped champion the voices of many talented West Coast composers. Michael actively performs as a soloist and chamber musician throughout the Los Angeles area, and was the flute fellow for two summers with the 'Aspen Contemporary Ensemble.' Equally at home as an orchestral performer, he has held the Principal Flute and Piccolo positions with the Young Musicians Foundation Debut Orchestra, and has attended the Round Top Festival Institute, and the Aspen Music Festival and School for orchestral studies. Michael holds a B.M. from the University of Southern California, where he studied with Jim Walker, and is currently pursuing an M.A. in performance at UC San Diego, studying contemporary music with John Fonville.
Kyle Motl is a bassist, composer, and improviser based in San Diego. Active in a variety of ensembles and settings, Kyle's work crosses the boundaries between idioms as wide as free jazz, contemporary concert music, and extreme metal. In recent years, Kyle has been performing and recording as a member of the Abbey Rader Quartet, alongside saxophonists John McMinn and Noah Brandmark. Other activity includes performances alongside artists including Kidd Jordan, Mary Halvorson, Larry McKenna, Mark Dresser, Jill Burton, and Kenny Millions, among others. Kyle holds a BM from Florida Atlantic University and an MM from Florida International University. He is currently pursuing a DMA at UC San Diego, where he studies bass with Mark Dresser.
Committed to artistic innovation, percussionist Ryan Nestor (1985) is actively pursuing new musical directions. Currently working on a Doctorate in Contemporary Music Performance at the University of California, San Diego, Nestor is a student of Steven Schick and a member of the percussion group, red fish blue fish. Recently, Nestor was an adjunct lecturer in music at Queensborough Community College (NYC) where he taught World Music and Percussion Ensemble. Earlier, Ryan held the percussion fellowship with the Aspen Contemporary Ensemble (ACE) at the Aspen Summer Music Festival and was performing guest-artist faculty at the nief-norf Summer Festival at Furman University. Nestor earned his Master's degree in Percussion Performance at Stony Brook University and his Bachelor's degree in Music Education from the University of Kentucky.
Carolyn Chen uses sound, text, light, video, and movement to reconfigure habits of listening. Her music combines traditional instruments with found objects that recontextualize tradition: tops and couscous roll across a timpani head (What we swallow turns around, 2011); the ensemble of Luigi Nono's Woe to Cold Monsters reassembles a dissected scream from Kanye West's Monster (Monsters, cold and warm, 2013); an ASL interpreter translates an audio recording of a story about the tangling of language and memory, hands strung to windchimes at a distance (Threads, 2012). The work has been awarded and commissioned by the Fulbright Foundation, Paul and Daisy Soros Fellowships for New Americans, American Composers Forum, ASCAP, MATA, Stanford University, and the Hammer Museum, and performed by ensembles such as Surplus, Talea, Red Light, red fish blue fish, and orkest de ereprijs, at festivals in Bulgaria, the Czech Republic, Israel, Norway, Iceland, Sweden, Denmark, the Netherlands, the U.K., Germany, Switzerland, China, and the U.S. Allan Kozinn of The New York Times called Wilder Shores of Love, a chamber orchestra piece commissioned by S.E.M. and Ostravska Banda for a 2011 Zankel Hall premiere, "the evening's most consistently alluring piece… a quiet but lush meditation."