Thursday, October 29, 2015: 7:30 PM
Del Sol String Quartet: Soundings 3.1 – Terry Riley & Kate Rannells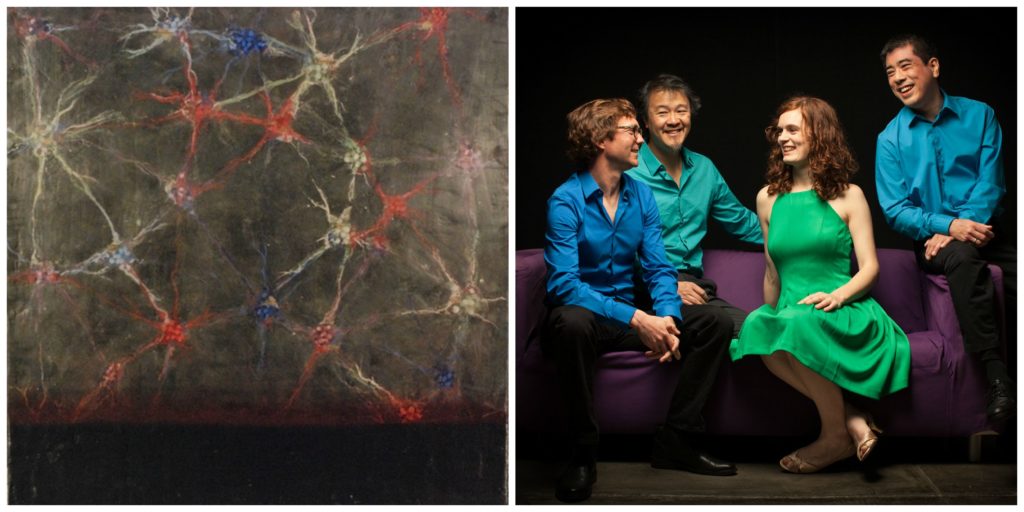 Soundings 3.1 opens the third season of a concert series where we explore a single work from a contemporary composer, paired with new artworks from local visual artists. Each concert includes performance and discussion with the audience, musicians, and commissioned artist in an informal and intimate venue, followed by a post-concert reception.
This concert features Terry Riley's "Mythic Birds Waltz" (1983) in Riley's 80th birthday year, preluding Del Sol's premiere of his new piece for quartet and guitar in December 2015.
"Mythic Birds Waltz" will be paired with Kate Rannells (http://katerannells.com/), an Oakland-based artist who focuses on a sense of place in mixed media works using paint, wax, and found and natural objects. She and Terry Riley share a deep connection to Grass Valley, CA in the foothills of the Sierra Mountains, where she was raised and he has lived for many years.
Rannells' work is influenced by the landscape of Grass Valley, California in the Sierra Nevada foothills, where she grew up, and other places where she has traveled. Her artwork investigates this sense of place, what she calls "terroir," from the micro to the macro level of natural systems and from the personal to the universal. Her work has been exhibited at galleries in the Bay Area and other locations in California and Oregon, as well as in Mexico. She also has past experience as a prop designer for Theatre of Yugen, which produces theatrical works influenced by classical Japanese dramatic forms.
This will be the second season she has collaborated with Del Sol. In 2014-15 she participated in our "Soundings" series and captivated the audience with her discussion of her work and artistic process, in connection with the music of Huang Ruo.
"Mythic Birds Waltz," which originally was composed for the Kronos Quartet, is one, long movement separated by pauses. It reflects Riley's interest in a variety of musical styles, including jazz and North Indian classical music, and explores different rhythms and melodic material that mix Eastern and Western musical influences.
Soundings 3.2 & 3.3 include Ben Johnston (b. 1926, US), "String Quartet No. 10" (1995) and Jack Body (1945-2015, New Zealand), "Epicycle" (1989, rev 2004), and artists Jan Wurm (janwurm.com) and Matt Gilbert (mattgilbert.net)