Thursday, September 22, 2016: 8 PM
Aerocade Music presents A/B Duo & Post Haste Reed Duo CD
Tickets: $15 General, $10 Members
Tickets available at the door only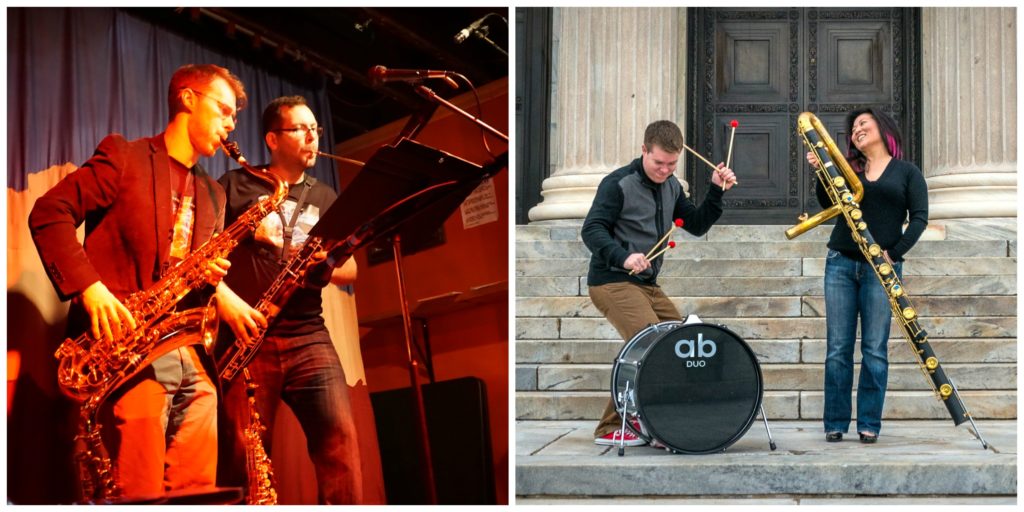 The bi-coastal flute and percussion duo, A/B Duo, will celebrate the release of their album "Variety Show" by performing works from the album. Fellow Aerocade Music artists and everyone's favorite renegade saxophone+bassoon duo, Post-Haste Reed Duo, will come down from Portland to split the bill with A/B Duo.
Flutist Meerenai Shim and percussionist Christopher G. Jones will perform works by Andrea Reinkemeyer, Ned McGowan, and Ian Dicke.
Saxophonist Sean Fredenburg and bassoonist Javier Rodriguez will perform works by Simon Hutchinson, Louis Andriessen, Lanier Sammons, and Ethan Wickman.
"…wonderful sounds set down by the Post-Haste Reed Duo. At the heart of everything is the superb playing of Sean Fredenburg and Javier Rodriguez. Would that all new music and its performances were this tight and this serious!" – Fanfare Magazine
"one of the most charming concerts imaginable… The music was bouncy, strange, interesting and fun. The A/B Duo is worth seeking out…" – Civic Center Blog
CDs will be available for sale. Snacks and non-alcoholic drinks will be served. All attendees will be entered into a raffle for Aerocade Music swag.