Friday, July 21, 2017: 8 PM
MicroFest North: Parsing the Octave, Contemporary Compositions in Small EDOs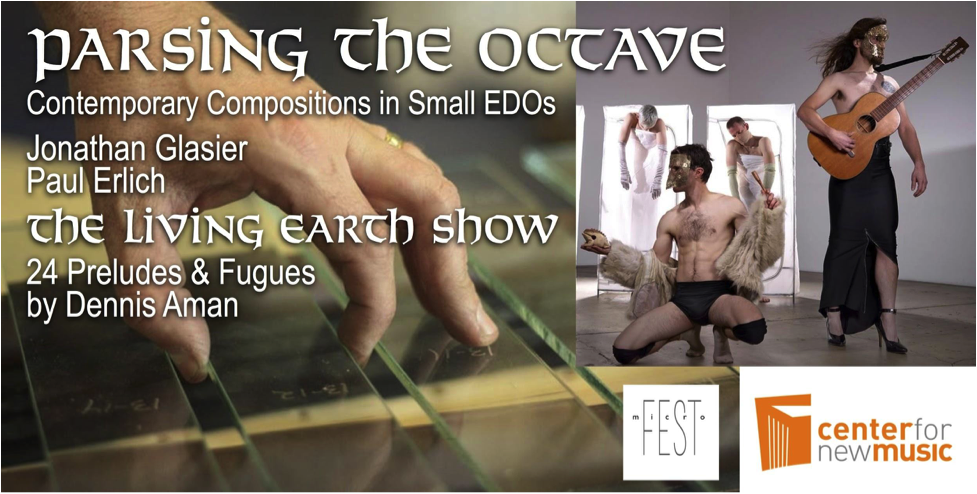 Jonathan Glasier (San Diego): 19-ET guitar
Paul Erlich (Massachusetts): Re-fretted guitars in unusual EDOs
Dennis Aman with the Living Earth Show (San Francisco): Excerpts from 24 Preludes and Fugues
Dennis Aman (SF), Paul Erlich (MA) and Jonathan Glasier (SD) are 3 of the most active torchbearers composing and performing in the small equal devisions of the octave first popularized by Ivor Darreg who would have turned 100 May 5 2017.
Paul Erlich will be improvising music in his original scales on a 22-tone equal temperament refretted electric guitar, inspired by a variety of Western and non-Western styles. He has been an active and influential tuning theorist since the late 1990s, known for his notion of "harmonic entropy", his discovery of scales like Blackjack and Triple-BP, and his concepts unifying a wide variety of musical systems.
Each of Dennis Aman's 24 PRELUDES AND FUGUES divides an octave into different numbers of equal parts, creating daring and unusual scales, which utilize EDOs ("Equal Division of the Octave") such as 5, 17, 23, and 1. Aman has composed 48 short pieces of music for 24 musical scales, designing and creating dozens of unique and fantastic custom instruments to bring his eccentric and delightful compositions to life.
You may know Dennis from the weekly KALW radio show he co-hosts ("Music from Other Minds"), his wholly unpredictable Musical Emergency performances, his handmade musical "Simon" controller toy made of Jell-O, or his compositions performed at SF's Center for New Music and elsewhere.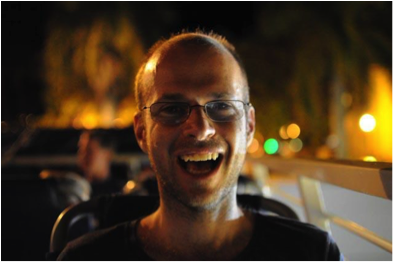 Paul Erlich (b. 1972) is a guitarist, multi-instrumentalist, and theorist, originally from New York City. He grew up with Western classical music at home, emanating from both the radio and the piano, which his parents taught him at a young age. He then moved away from classical piano, mastered conventional ear training and theory by age 10, and taught himself guitar at age 15. He has devoted his life to immersion in a wide variety of musical styles and to the understanding of, and innovation in, harmony, scales, and tuning.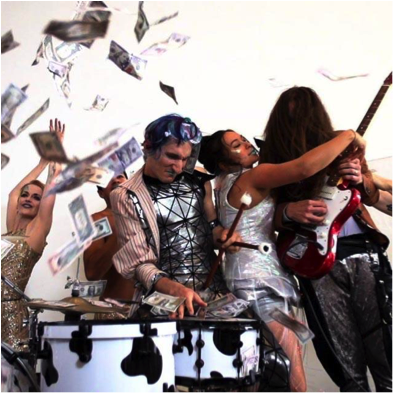 The Living Earth Show: Called "outstanding" by The San Francisco Chronicle, "transcendent" by The Charleston City Paper, "a vanguard effort of new chamber music" by The San Francisco Examiner, and "a fully distorted perpetual motion of awesome" by "I Care If You Listen", The Living Earth Show is a megaphone and canvas for some of the world's most progressive artists. Comprised of electric guitarist Travis Andrews and percussionist Andy Meyerson, the San Francisco-based ensemble uses the traditions of classical and experimental music as tools to allow artists of all disciplines to create their most ambitious works and respond to the world in which they live.
Memorizing every work it performs, The Living Earth Show thrives on pushing the boundaries of technical and artistic possibility in its presentation of commissioned electro-acoustic chamber music. The ensemble has commissioned and premiered works by such diverse composers as Anna Meredith, Timo Andres, Nicole Lizée, M. Lamar, Raven Chacon, Brian Ferneyhough, Samuel Adams, Ken Ueno, Luciano Chessa, Sharmi Basu, Ted Hearne, Jon Russell, Adrian Knight, Alden Jenks, Nick Vasallo, and Zachary James Watkins. Many of these commissions can be found on the group's critically acclaimed debut album, High Art (Innova Records, 2013) and its upcoming albums Dance Music (New Amsterdam Records) and TAFT (slashsound).
Upcoming productions include Aeolus, opera with Ken Ueno and Majel Connery, a new song cycle presented with and composed by Ted Hearne, a collaboration with Kronos Quartet and Youth Speaks, M. Lamar's song cycle Lordship and Bondage: The Birth of the Negro Superman, Dennis Aman's evening-length work 24 Preludes and Fugues, Nicholas Vasallo's Surrounding The Earth, a new work written for the ensemble by Raven Chacon, the collaborative performance project AFFIRMATIVE ACTION, and a new evening-length collaboration with Post:Ballet and composers including Samuel Adams, Andrew Norman, Daniel Wohl scheduled to premiere in 2019.
When not performing as The Living Earth Show, Andy and Travis also comprise 2/3 of the rhythm section of C O /\/\ /\/\ /\ /\/ D O, a musical juggernaut dedicated to dismantling heteropatriarchy through militant, violently queer rap metal.
The Living Earth Show performs at theaters and events around the country, often in collaboration with dance companies and established composers. Many of their skilled and inventive performances are available on YouTube and on their website: thelivingearthshow.com.