Wednesday, February 11, 2015: 7:57 PM
sfSoundSalonSeries: Mazen Kerbaj
Tickets: $15 General, $8 Members & Underemployed
Tickets available at the door only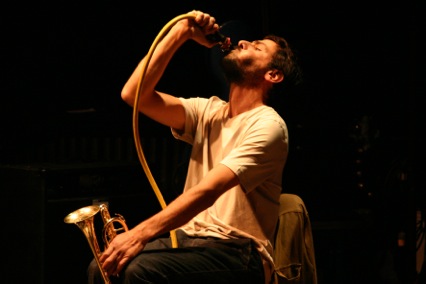 Beirut improviser Mazen Kerbaj performs a trumpet duo with local Tom Djll and ensemble improvisations with Gino Robair, Matt Ingalls, and Kyle Bruckmann.
Mazen Kerbaj, born in 1975, lives and works in Beirut. His main activities are comics, paintings and music.
Kerbaj published more than 15 books and many short stories and drawings in anthologies, newspapers and magazines in Lebanon, Europe, and the USA, and exhibited his work both in solo and in collective exhibitions in Lebanon, France, England, Spain, Sweden, Germany, Switzerland, Australia, Dubai, Malaysia and the USA.
Mazen Kerbaj is also one of the founders of the Lebanese free improvisation scene, both as a trumpet player and as an active member in the MILL association that organizes the annual Irtijal festival in Beirut since 2001. In 2005 he launches Al Maslakh, the first label for this music in the region. In 2009, after fructuous collaborations with Lebanese cult punk rock band Scrambled Eggs he launches a new sub-label, Johnny Kafta's Kids Menu to produce alternative and experimental rock music from Lebanon.
Between 2000 and 2014, Mazen Kerbaj played in solo and with various groups in the Middle East, Europe and the USA. Regular and occasional partners includes: Sharif Sehnaoui, Christine Abdelnour, Raed Yassin, Franz Hautzinger, Lê Quan Ninh, Stéphane Rives, Mats Gustaffson, The Scrambled Eggs, Guillermo Gregorio, Gene Coleman, Michael Zerang, Jim Baker, Jack Wright, Michael Bullock, Vic Rawlings, David Stäckenas, Martin Küchen, Axel Dörner, Ricardo Arias, Jason Khan, The Ex, Thomas Lehn, Joe McPhee, Raymond Boni, John Butcher, Martin Blume, Tony Buck, Magda Mayas, Peter Evans, Nate Wooley…