Thursday, June 26, 2014: 7:30 PM
SFMusic Thursdays: Bella Piano Trio (sponsored by SFFCM)
Tickets: $15 General, $10 Members
Tickets available at the door only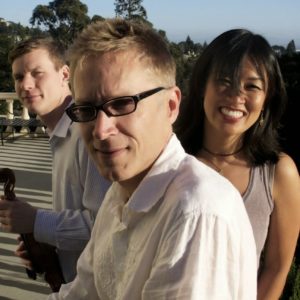 Nathanael Bartley, violin
Eric Gaenslen, cello
Mimi Lee, piano
BELLA was founded in 2009 and has become one of San Francisco's most exciting emerging ensembles. The members have studied Juilliard, Yale, Harvard, and the prestigious Indiana Jacobs School of Music.  The trio has worked with pianist Gilbert Kalish, violinist Mark Steinberg of the Brentano String Quartet, Don and Vivian Weilerstein, and Joel Krosnick of the Juilliard String Quartet as residents of the Banff Chamber Music Program under the directorship of Barry Shiffman.  They have also worked with members of the SF Bay Area's own St. Lawrence String Quartet, and the Alexander String Quartet. BELLA are Semi-Finalists of the 2012 Concert Artist Guild Competition and were chosen as a Showcase Ensemble for the 2013 Chamber Music America National Conference in New York City.
In addition to their public performances, they maintain a House Concert Series, a Rush Hour Concert Series, and as well as performances with community partners such as the Young Chamber Musicians, the Harvard Club of SF, the SF Conservatory of Music, and neighborhood artists and galleries.
All three artists share a deep sensitivity to the value and potential beauty of living artfully and the power of bringing inspirational music to the lives of others.  It is this thread that ties them to their music, their audiences, and each other. 
BELLA is a proud Affiliate of the San Francisco Friends of Chamber Music (SFFCM), a non-profit organization promoting chamber music of all genres in the Bay Area.