Friday, October 30, 2015: 8:00 PM
Rova Sax Quartet: Pre-Tour Concert
Tickets: $15 General, $10 Members
Tickets available at the door only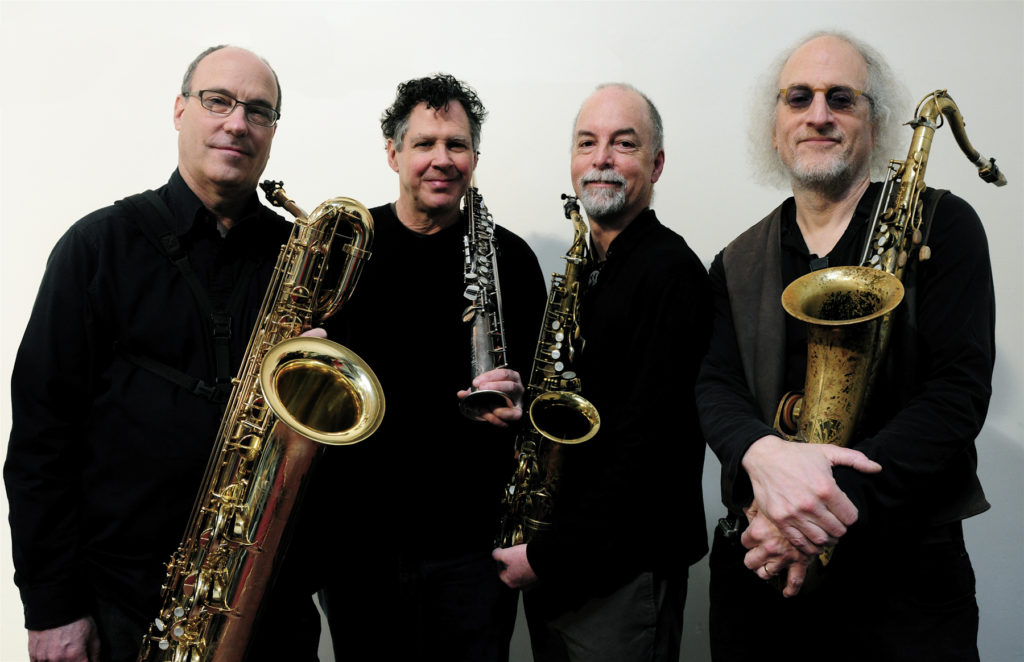 Leaving next week for 15 city European tour to Belgium, Germany, Austria and Italy, Rova comes to the Center to rev up, playing new works from 2015 as well as some terrific older works commissioned by Rova over the past 25 years, but not heard in the Bay Area in this decade. SMOKING!!
Bruce Ackley, Steve Adams, Larry Ochs, Jon Raskin – saxophones of all sizes and shapes
Think of the human voice in music. The most primal of instruments, it can melt you or move you to tears on the spot. Then it's the saxophone, one-step removed from the human voice, and the next most powerful messenger in music. Multiply that power, that capability, times four, and you have Rova Sax Quartet: a group that can move you the way an Eastern European choir of voices can move you, but also a group with force, a force that can simulate one of nature's wild phenomena, or conversely, the almost-silent overlapping sound-patterns heard with eyes closed in a field in the wilderness.
Rova Sax Quartet's musical goal has always been, since 1978, to instigate, to challenge, and to inspire. The group explores the synthesis of composition and collective improvisation, creating exciting, genre-bending music. Rova is one of the longest-standing groups in the music movement that has its roots in free jazz, 20th century new music , and rock music. Rova draws inspiration from the visual arts, contemporary dance, and contemporary poetry. We listen closely and deeply appreciate both the traditional and the pop music styles of Africa and Asia. And then there is the blues; always a key.
"The Rova Saxophone Quartet first … took its inspiration from the work of musicians such as Anthony Braxton, Steve Lacy, and Roscoe Mitchell (and his Art Ensemble of Chicago), all of whom had worked with new compositional techniques and approaches to improvisation. From the outset, Rova flouted dogma, putting a premium on group interaction and eschewing the stultifying head-solo-head approach of most jazz. The group embraced the complexities of contemporary music – both composed and improvised – and found a way to seamlessly weave them together into a music that had the density and thorniness of Monk, the lushness of Ellington, and the angularity-and occasionally the austerity-of Webern. In Rova's hands, the twelve-bar blues came face to face with twelve-tone music." – Paul Bennett, Hedges and Shambles
"… a utopian intermingling of 'styles' and philosophies that moves some distance beyond jazz. The playing is very clean-lined and exact, with a virtuosic interweaving of voices. ROVA go on from strength to strength." – Penguin Guide to Jazz Recordings