Wednesday, May 22, 2019: 8 PM
Raskin-Brown-Hoopes-Robinson Quartet
Tickets: $15 General, $10 Members & Students
Buy Tickets Online
Tickets also available at the door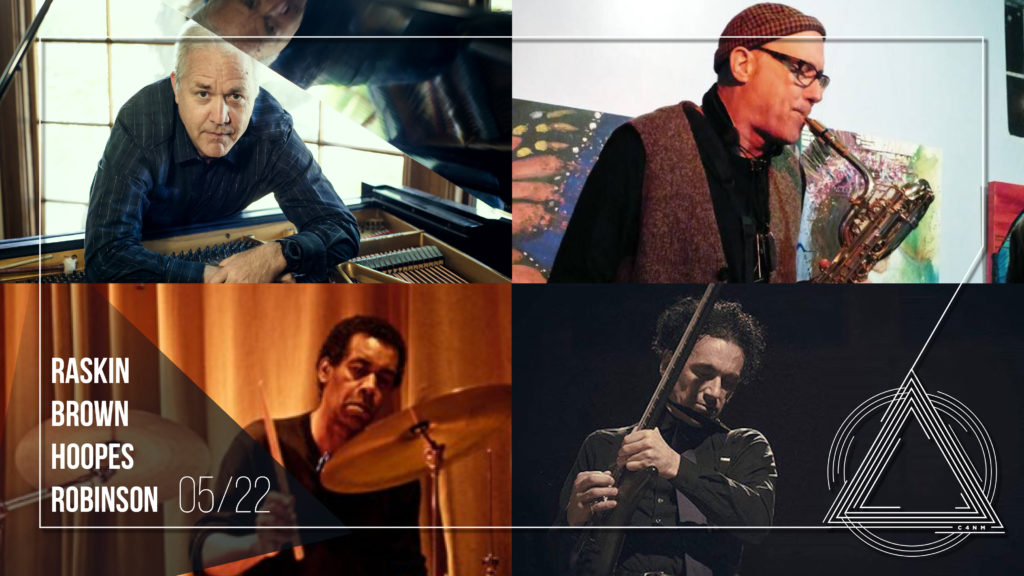 ROVA saxophonist Jon Raskin joins electroacoustic pianist Chris Brown, bassist Jason Hoopes and drummer Donald Robinson in an evening of free-form improvisations.
JON RASKIN has been a member of Rova Saxophone Quartet for over 40 years exploring the relationship of improvisation and composition, developing and honing the language of ensemble music, and researching linguistic possibilities of the saxophone. He has also performed and/or recorded with Anthony Braxton, Chris Brown, Fred Frith, Sam Rivers, Tim Berne, Phillip Johnston, Leo Smith, Vladimir Tarasov, Phillip Greenlief and Henry Kaiser.
CHRIS BROWN, composer, pianist, and electronic musician, makes music with self- designed sonic systems that include acoustic and electroacoustic instruments, interactive software, computer networks, microtonal tunings, and improvisation. His compositions are designs for performances in which people bring to life the musical structures embedded in scores, instruments, and machines. Recordings of his music are available on New World, Tzadik, Pogus, Intakt, Ecstatic Peace, Red Toucan, Leo, and Artifact Recordings. He is a Professor Emeritus at Mills College in Oakland, California, where he taught electronic music, composition, theory, and ethnomusicology for 30 years.
JASON HOOPES is a musician and educator living in Oakland. He is bassist for Fred Frith Trio, Jack O' The Clock, Scott Amendola Trio, and has been bassist for many diverse and forward thinking bay area groups including Annie Lewandowski's powerdove, Eat The Sun (w/ Gretchen Jude and Noah Phillips), Rova Saxophone Quartet, and Kyle Bruckmann's Degradient, as well as working with modern choreographers such as Peiling Kao and Molissa Fenley. In addition to music, Jason is a painter and poet.
Described as a 'percussive dervish' (Coda) DONALD ROBINSON is a technical master of the drums. He is a stalwart of the of San Francisco bay area avant-garde jazz scene, playing and recording with many of the area's improvisational players, from saxophonists John Tchicai, Marco Eneidi and Larry Ochs to koto player Miya Masaoka and pianist Matthew Goodheart, and with prominent visitors like Cecil Taylor, Wadada Leo Smith, George Lewis, trumpeter Raphe Malik and Canadian pianist Paul Plimley. Much of this work has featured the combination of Robinson and bassist Lisle Ellis as rhythm section: 'the best bass-drums tag team on the scene' (Jazz Times). His longest musical association, dating from the 1970's, was with the late tenor saxophonist Glenn Spearman. During the early 1970's he served his musical apprenticeship in the jazz world of Paris, studying with Kenny Clarke and playing with Alan Silva, Anthony Braxton, Oliver Lake and Bobby Few among many others.