Tuesday, February 25, 2014: 8 PM
Mohammed Fairouz: West Coast Premieres with pianist Lara Downes and the Del Sol String Quartet
Tickets: $30 general, $25 members, $15 students
Buy Tickets Online
Tickets also available at the door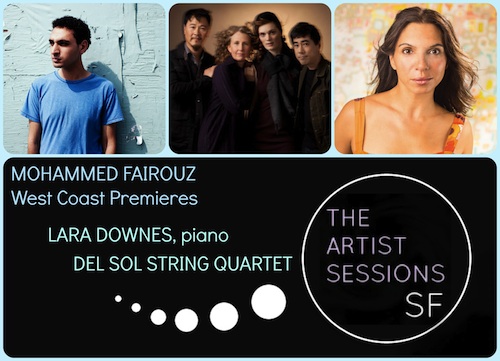 THE ARTIST SESSIONS presents an evening of West Coast premieres by composer MOHAMMED FAIROUZ, acclaimed as "one of the most talented composers of his generation" by the BBC World News, and called "a post-millenial Schubert" by Gramophone Magazine.
The DEL SOL STRING QUARTET, a groundbreaking ensemble known for "jumping cultures and continents" (SF Classical Voice) brings to the Bay Area the West Coast premiere of Fairouz's string quartet THE NAMED ANGELS, a work that invokes the mythology of angels in Middle Eastern Jewish, Christian and Muslim folklore.
Pianist LARA DOWNES, whose performance of Fairouz's complete Piano Miniatures was recently praised by the NY Times for its "loving attention to mood and color", presents the West Coast premiere of his monumental PIANO SONATA #2: THE LAST RESISTANCE, a musical expression of post 9/11 portraits and prophecies.