Friday, May 5, 2017: 6 PM
MicroFest North: Opening Reception, Iconoclast Centennials
Tickets: Free!
Tickets available at the door only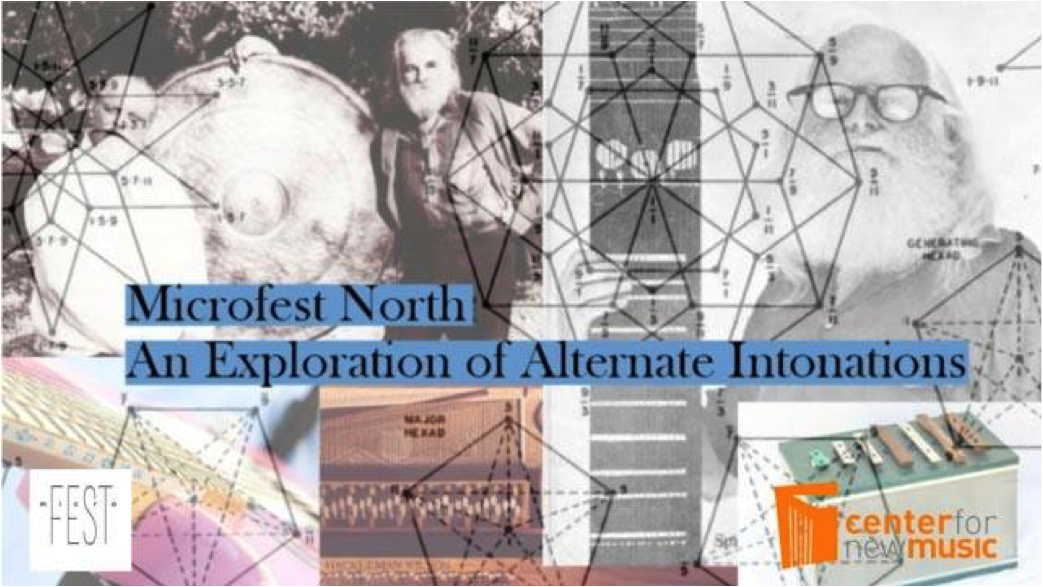 Opening Reception: Iconoclast Centennials
Join us for a celebration of alternate tuning and the Iconoclasts Centennials which includes works by Harrison, Colvig, and Darreg, all of whom would have turned 100 this spring. The work of these giants is presented in tandem with new works exploring the tuning theories of contemporary artists like Chalmers, Grady and Monzo.
On display will be rare, original mimeos of tuning diagrams for Lou's just intonation zither as well as Bill Colvig's gamelan like Tubaphone for Bill Alves, Coffee Can and Steel Pipe Sarons, Triangular Kanong and Bonang Pannerous; as well as a rasp, Clock Chime Guitar, Jangles and the Harmonic Series Instrument.
Reception from 6-7pm provides the public a chance to explore these related gallery shows.
Panel discussion at 7pm discusses the work of Lou Harrison, Bill Colvig, and Ivor Darreg including panelists:
Larry Polansky (Santa Cruz)
William Winant (Oakland)
Daniel Schmidt (El Sobrante)
Jonathan Glasier (San Diego)
Demonstrations by:
Larry Polansky on Transfer Harp by Bill Colvig
William Winant on Ptolemy Duple by Bill Colvig
Jonathan Glasier on 19 tone guitar playing a prelude by Ivor Darreg
William Winant (born 1953) is an American percussionist. In addition to his work in contemporary classical music—with a specialty in performing Lou Harrison's compositions—Winant has worked in a variety of genres, including noise rock, free improvisation and jazz. Notable collaborators include Glenn Spearman, Thurston Moore, Sonic Youth, Mr. Bungle (with whom he toured in support of their albums Disco Volante and California), Secret Chiefs 3, Mondo Cane and Oingo Boingo. A member of the Abel-Steinberg-Winant Trio, he has also frequently collaborated with John Zorn.
Winant received his undergraduate degree from York University, then attended the California Institute of the Arts for a couple of years, ultimately dropping out to go tour with Oingo Boingo. He currently is a faculty member at Mills College in Oakland, California. He also gives percussion lessons and teaches the percussion ensemble at the University of California at Santa Cruz.
Larry Polansky (b. 1954) is a composer, theorist, teacher, writer, performer, programmer, editor and publisher. He lives in Santa Cruz, California, teaching at UC Santa Cruz. He is also the Emeritus Strauss Professor of Music at Dartmouth College, and co-director and co-founder of Frog Peak Music.
More about the full festival:
MicroFest North celebrates Lou Harrison, Bill colvig and Ivor Darreg with an ambitious 2017 festival:
Three concerts of their music and new works by local composers inspired by their work featuring: local artists Paul Dresher, William Winant, and Larry Polansky; the world premiere of a new version of Harrison's CINNA as a shadow-puppet opera with Larry Reed (Shadowlight Productions) and Linda Burman-Hall on tack piano; pianist Sarah Cahill with unpublished works by Harrison; a host of works by living composers for re-fretted guitars, percussion, and other invented instruments.

Three exhibitions of invented instruments and tuning graphics, and a feature exhibit of instruments by Alameda-based artist Dennis Aman alongside a large collection of original Ivor Darreg instruments.

Panel discussions on the lives and achievements of these artists featuring their students, MicroFest artists, and special guest scholars Jonathan Glasier (San Diego) and Paul Erlich (Massachusetts)
MicroFest North highlights living innovators who worked alongside these legends. Members of the vital Bay-Area new music scene—including Dresher, Winant and Polansky—will share biographical anecdotes and give musical performances. Emerging artists in the community—like Dennis Aman and Paul Erlich—will perform new works on both historical invented-instruments and instruments of their own design.
All concerts will be at the Center for New Music