Saturday, October 25, 2014: 7:30 PM
Irregular Resolutions Tenth New Music Concert
Tickets: $10 General, $5 Members, Students & Seniors
Buy Tickets Online
Tickets also available at the door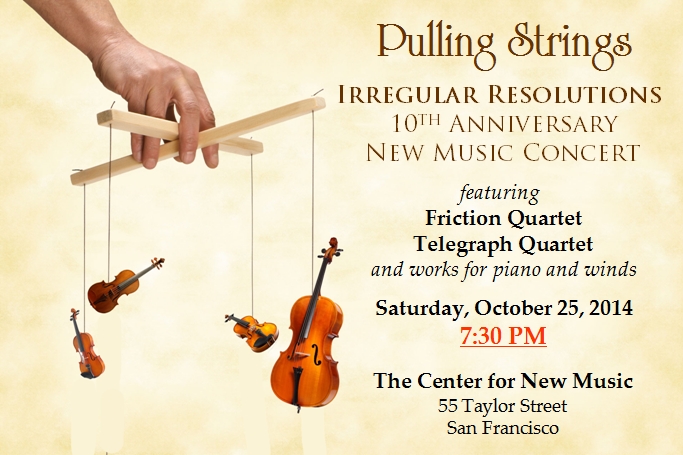 This concert presents an eclectic variety of new chamber music, composed variously for strings, strings and electronics, woodwind ensemble, and solo piano. It features two locally renowned string quartets — Friction Quartet and Telegraph Quartet — and a number of guest artists.
These Bay Area composers have been meeting regularly to listen to each others' music for many years. Individual styles range from traditional common practice to avant-garde. In this tenth concert open to the public, new music by eight of these composers is presented. Six works explore the possibilities of string quartet and augmented string quartet writing, and feature the Friction Quartet and the Telegraph Quartet. Additional works include woodwind trio and solo piano.
If you'd like to get a sample of the program in advance, two days before the concert, radio host David Latulippe will be interviewing the Friction Quartet and Irregular Resolutions composer Davide Verotta during a segment of his KALW-FM radio show, "On Air"; this will be heard live on Thursday, October 23, between 1 and 2 p.m. You can either hear the show at 91.7 FM or listen to it online at kalw.org.
For more information on the composers and featured performers, please visit:
irregularresolutions.org
frictionquartet.com
telegraphquartet.com
Emily Tian