Sunday, November 24, 2019: 3 PM
Habiby and Justen: Resonating Bodies
Tickets: $15 General, $10 Members & Students
Buy Tickets Online
Tickets also available at the door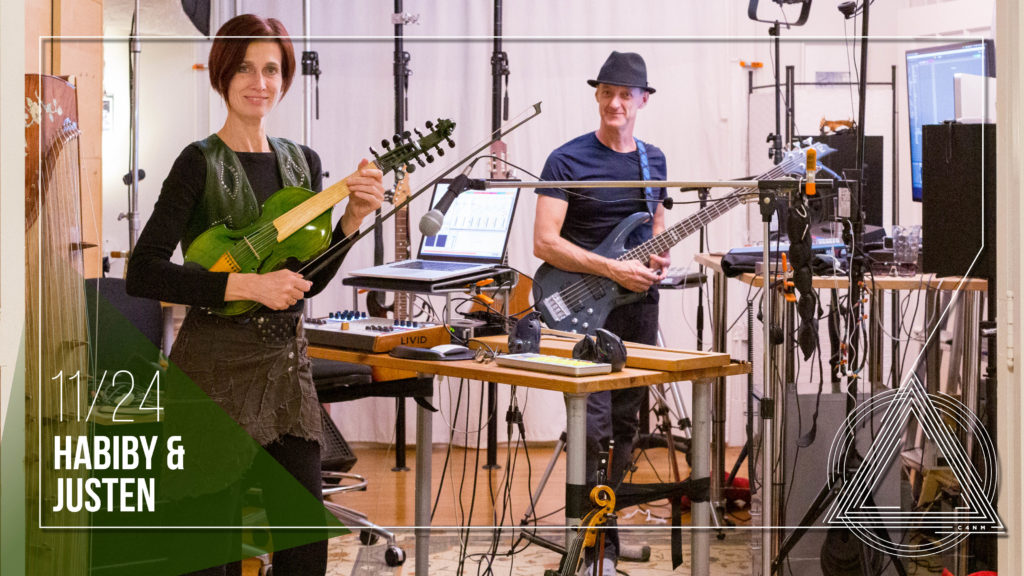 Gloria Justen and Greg Habiby combine live improvisation on various instruments with ambient atmospheres, electronic beats, and dance music structures. Having played DJ sets together in the past, this will be the first time they will perform all-original material in public.
The first half of the show features dreamy soundscapes in slower tempos. The Center's amazing new 6.1 Meyer Sound surround system will channel these textured ambient collages to all parts of the room. The space will be open for people to move as they feel like it to the sounds. For the first half of the show, listeners can sit or lie on cushions on the floor, relaxing and closing their eyes, or move about as they wish.
In addition to the violin, viola, and electric bass, Gloria and Greg will bring some unusual instruments into the live performance, but they will be played untraditionally: Chinese guzheng, West African balafon, viola d'amore, viola da gamba, clay flutes, various percussion instruments and found objects played into microphones with electronic enhancement.
In the second half of the show Habiby and Justen will play beat-based, up-tempo dance music, with rhythms influenced by breaks, drum and bass, electro, and world beat. The audience is encouraged to dance or move as they feel moved.
Over the last few decades, Greg and Gloria have absorbed the music of many diverse genres — European classical, experimental electronic, free improvisation, rock, funk, EDM, jazz and various world traditional music, and they bring it all into their own fresh melange of trippy atmospheres and danceable beats.
Gloria Justen is an artist with multiple outlets for her imagination. A graduate of the Curtis Institute of Music in 1990, she has performed as a violinist with many ensembles including the Philadelphia Orchestra, the Chamber Orchestra of Philadelphia, Orchestra 2001, the San Francisco Symphony, the Philip Glass Ensemble and many others. She has also been part of projects making experimental electronic music, doing free improvisation, creating music for modern dancers, playing electric violin with DJs, making sound collages from field recordings, and playing studio sessions for pop and R&B stars. Gloria has composing her own music since 2000. She has released two CDs of original music, and her pieces have been played by chamber orchestras and soloists in the US and Europe. She has been experimenting with various ways to tune stringed instruments and she plays a variety of different-sized violins and violas, including a few electric instruments. She is beginning to incorporate storytelling into her work. Gloria also creates visual and wearable art, and she enjoys caring for her small collection of orchids and succulents. She and her husband Greg have been collaborating since 2010. Please visit her website for more info: gloriajustenmusic.com.
Greg Habiby is a Renaissance man with many skills and interests. Throughout his life he has been deeply involved with music in various ways. He played violin as a kid, and in his teens and twenties he played professionally in funk and rock bands as an electric bassist. Greg has been a DJ of electronic dance music since 2007, spinning music for events of the Rhythm Society, at Radiance, and at Burning Man; and since 2012 he has been working on the craft of creating his own electronic music using Ableton Live. Other aspects of Greg: after studying environmental science at UC Irvine and working briefly in that field, he switched his course and in 1996 became a professional photographer. Commercial photography keeps him busy, mostly doing portraits for businesses. He also shows personal fine art work at Under1000 Gallery on Pier 39. In addition to making music and creating imagery, Greg is good at fixing everything from computers to cars — plus he makes great tacos. Greg and Gloria (married since 2011) love dancing and are active in Bay Area dance communities.