Saturday, November 9, 2019: 8 PM
Georges Aperghis: 14 Recitations | Stephanie Lamprea, Voice
Tickets: $15 General, $10 Members & Students
Buy Tickets Online
Tickets also available at the door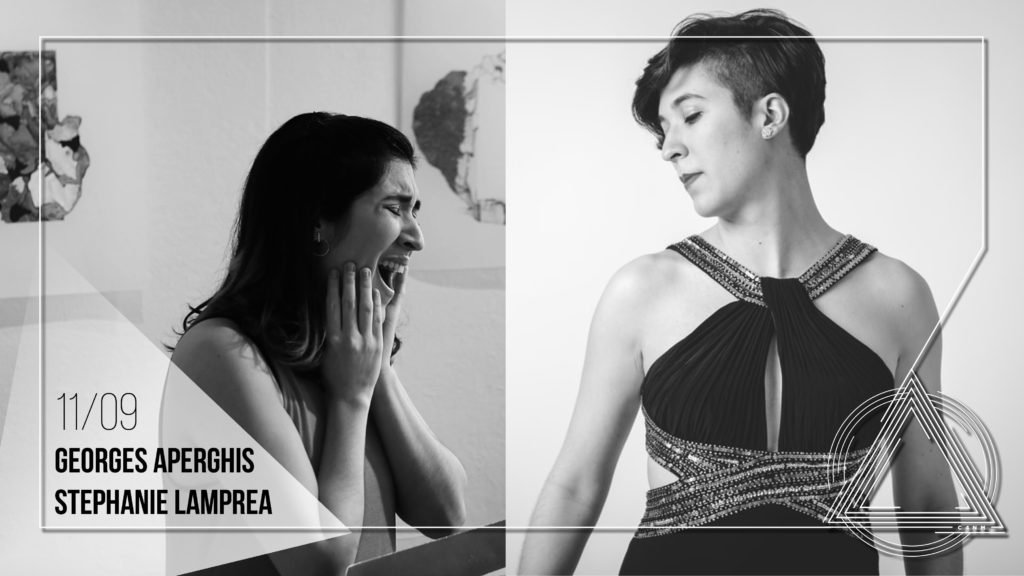 Georges Aperghis (born 1945) is a composer known for creating works that synthesise instrument, voice, and text, and which go against the hierarchies of orchestra and theatre environments. Born in Greece and now based in Paris, his prolific output includes pieces for orchestras, chamber music, and solo. In 1976 he founded music theatre workshop Atelier Théâtre et Musique (ATEM). Many of his operas are based on cultural or historical figures including Edgar Allen Poe, Alain Badiou, Heiner Muller and Adolf Wofli.
Récitations, written 1977-88, is an ambitious and difficult work for solo female voice. Agglomeration of high notes are interrupted with coughs, mutters, and stray words seemingly spoken out of turn. Based around extended vocal technique, the work's discontinuous form falls between musical and verbal support structures, and forces the singer to build their own vocal character in the interstices of word and sound.
Daniel Durney writes:
By the time Georges Aperghis was writing Récitations in 1978, he had already commenced experimenting with the unlikely blending of sounds and words and in so doing had discovered that logic more often than not begins to stray in such alchemy.
His previous works, especially those in the domain of music-theatre and opera – De la nature de l'eau [1974] Jacques le Fataliste [1974] Histoires be Loup [1976] – are dotted with snares, double meanings and labyrinths of superposed words and actions which expel rational explanation, cloud the issue, and divert attention. The music seemingly finds its strength as the words gradually fade in meaning, a process which endows these compositions with a haunting beauty…
Automatic repetition puts all meaning to flight and is rendered more poetic by the sight of the schoolchild reciting by heart she falters, she catches up, falters again.
This utilisation of repetition introduces the concept of accumulative processes which can be observed in later works such as Conversations [1988], Enumerations [1988] H [1992]. Trying to make sentences and small groups of words bend to arbitrary rules and structures recalls the formal language games played by the lettristes, Jacques Roubaud and Georges Perec. However, when both music and words are subjected to this treatment, as in the case of Récitation, (a major work in Aperghis' output), the result is an inimitable amalgam of susceptibility and burlesque, hallmark of the inventiveness and engaging musical personality of this composer.
(Source: The Voice Is A Language)