Thursday, September 12, 2013: 7:30 PM
Double Bill: Fei-Perkis Duo + Looney-Robinson-Mezzacappa Trio
Tickets: $10 General, $8 Members
Tickets available at the door only
Bios: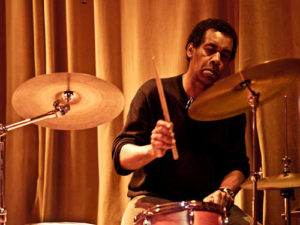 Tim Perkis has worked in the medium of live electronic and computer sound for many years, and has performed, exhibited installation works, and recorded in North America, Europe, and Japan. His work has largely been concerned with exploring the emergence of life-like properties in complex systems of interaction. In addition, he is a well-known performer in the world of improvised music, having performed on his electronic improvisation instruments with hundreds of artists and groups, including Chris Brown, John Butcher, Eugene Chadbourne, Fred Frith, Gianni Gebbia, Frank Gratkowski, Luc Houtkamp, Yoshi Ichiraku, Matt Ingalls, Joelle Leandre, Gino Robair, ROVA Saxophone Quartet, Elliott Sharp, Leo Wadada Smith and John Zorn. Ongoing groups he has founded or played in include the League of Automatic Music Composers and The Hub — pioneering live computer network bands — and Rotodoti, the Natto Quartet, Fuzzybunny, All Tomorrow's Zombies and Wobbly/Perkis/Antimatter. He is also producer and director of the 2007 feature-length documentary Noisy People, about musicians and sound artists in the San Francisco Bay Area. www.timperkis.com
James Fei (b. Taipei, Taiwan) moved to the US in 1992 to study electrical engineering. He has since been active as a composer and performer on saxophones and live electronics. Works by Fei have been performed by the Bang on a Can All-Stars, Orchestra of the S.E.M. Ensemble, MATA Micro Orchestra and Noord-Hollands Philharmonisch Orkest. Recordings can be found on Leo Records, Improvised Music from Japan, CRI, Krabbesholm and Organized Sound. Compositions for Fei's own ensemble of four alto saxophones focus on physical processes of saliva, fatigue, reeds crippled by cuts and the threshold of audible sound production, while his sound installations and performance on live electronics often focus on feedback. Since 2006 Fei has taught at Mills College in Oakland, where he is Associate Professor of Electronic Arts. www.jamesfei.com
Scott R. Looney has always been interested in the creation and performance of compelling sounds across a broad spectrum of contemporary, improvised, and experimental music. He has studied composition and improvisation with Roscoe Mitchell, Wadada Leo Smith, Morton Subotnick, David Rosenboom, and Frederic Rzewski, obtaining his MFA in Composition from California Institute of the Arts.  Scott has recorded and/or performed with Oliver Lake, Frank Gratkowski, Wolfgang Fuchs, Jon Raskin (of the ROVA Saxophone Quartet), Joelle Leandre, Henry Kaiser, Gianni Gebbia, Gino Robair, Joe Morris, and Paul Smoker, to name a few. www.scottrlooney.com/
Described as a 'percussive dervish' (Coda) Donald Robinson is a technical master of the drums. He is a stalwart of the of San Francisco Bay Area avant-garde jazz scene, playing and recording with many of the area's improvisational players, from saxophonists John Tchicai, Marco Eneidi and Larry Ochs to koto player Miya Masaoka and pianist Matthew Goodheart, and with prominent visitors like Cecil Taylor, Wadada Leo Smith, George Lewis, trumpeter Raphe Malik and Canadian pianist Paul Plimley. Much of this work has featured the combination of Robinson and bassist Lisle Ellis as rhythm section: 'the best bass-drums tag team on the scene' (Jazz Times). His longest musical association, dating from the 1970's, was with the late tenor saxophonist Glenn Spearman.  Robinson is currently playing in many configurations with a broad range of musicians throughout Europe and the US.
Lisa Mezzacappa is a San Francisco Bay Area-based musician, composer, and curator. An active collaborator and arts organizer in the Bay Area music community for more than ten years, she leads several of her own ensembles and performs in nearly a dozen others. Her music spans raucous garage jazz to ethereal chamber music, scores for experimental film and immersive installation environments.  Lisa has recorded on the Tzadik, Clean Feed, NotTwo, NoBusiness, Kadima, Leo, Edgetone, Porto Franco, Odd Shaped Case and Evander record labels, and has performed at countless music venues in the Bay Area, New York, and abroad, including the Earshot, Montreal, Novara and Monterey Jazz festivals. www.lisamezzacappa.com
Videos:
https://www.youtube.com/watch?v=qqoMryglEq0
https://www.youtube.com/watch?v=ATVHmnOE_Rg
https://www.youtube.com/watch?v=XQDCE7y7GmY