Friday, August 16, 2013: 8:00 PM
cords/strings/wires: Josephson-Victor-Mezzacappa-Walton-Perkis-Looney
Tickets: $10 General, $8 Members
Tickets available at the door only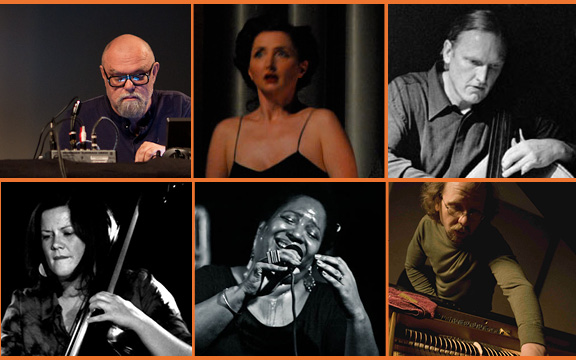 Aurora Josephson, voice
Fay Victor (Bklyn), voice
Scott Walton, acoustic bass
Lisa Mezzacappa, acoustic bass
Tim Perkis, electronics
Scott Looney, piano
The same, but different: a mix and match evening of improvised music featuring similar instruments and diverse musical personalities. The performance includes two sets of music that feature the full sextet, as well as smaller configurations of duos, trios and quartets that take advantage of this ensemble's unusual instrumentation. At the center of the ensemble are two peerless improvising vocalists, Bay Area vocalist Aurora Josephson and Brooklyn-based vocalist Fay Victor, in their first performance together.
Josephson, a vocalist with operatic training and experimental inclinations, has toured with the Merce Cunningham Dance Company performing the vocal music of John Cage, and has lent her distinctive extended vocal techniques to performances with Henry Kaiser, Alvin Curran, Joelle Leandre, William Winant and the Flying Luttenbachers. Victor has made a career in NYC and Holland as a vocalist, composer and bandleader rooted in free jazz, abstract blues and experimental soundscapes, collaborating with legends of improvised music on both continents like Ab Baars, William Parker, Misha Mengelberg and Anthony Braxton.
Bassists Scott Walton and Lisa Mezzacappa are deeply embedded as collaborators in the West Coast creative music scene — Walton was part of the the improv supergroup Cosmologic, and has recorded with Vinny Golia, Wadada Leo Smith, George Lewis, Gerry Hemingway and many others. Mezzacappa leads several of her own groups that span raucous garage jazz and ethereal chamber improv. The wild cards here are fiery pianist Scott Looney, who is as comfortable creating unearthly sounds inside the piano as he is deft at the keyboard; and electronics wizard Tim Perkis, a pioneer of laptop improvisation whose deep musicality has made him an in-demand collaborator in the U.S. and abroad for decades.
http://www.fayvictor.com
http://aurorarising.com
http://www.ninewinds.com/Artists/walton.html
http://www.lisamezzacappa.com
http://www.scottrlooney.com/
http://www.perkis.com/wpc/index.php