Saturday, July 12, 2014: 7:30 PM
Best Coast Composers Series #7: Nathan Clevenger
Tickets: $15 General, $12 Members
Tickets available at the door only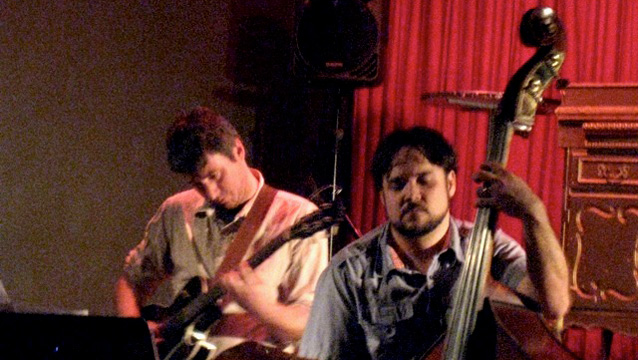 East Bay guitarist, composer and bandleader Nathan Clevenger creates smart, dreamily layered and extremely ambitious music that grooves and floats, expands and contracts to accommodate the stellar musical personalities in his ensembles. For this performance, Clevenger presents a wide range of new and recent works, including a series of pieces for solo wind instruments, performed by Cory Wright; an extended work for a new quartet, Book of Exits; and new music for his signature ensemble, the Nathan Clevenger Group.
Book of Exits:
Cory Wright – tenor sax, clarinet
Jordan Glenn – vibraphone, drums
Sam Bevan – bass, piano
Nathan Clevenger – piano, guitar
Nathan Clevenger Group:
Kasey Knudsen – alto saxophone
Cory Wright – tenor saxophone, Bb clarinet
Aaron Novik – bass clarinet, Bb clarinet
Sam Bevan – bass
Jon Arkin – drums
Nathan Clevenger – guitar
with special guest: Jordan Glenn
Oakland-raised composer/guitarist Nathan Clevenger has been performing his original jazz music in the Bay Area since 1998. Since 2003, the Nathan Clevenger Group has featured some of the best players in the Bay Area scene, performing more than 90 original compositions and releasing two critically-acclaimed albums. The East Bay Express called the Nathan's music "long-form, dreamy, sectional without being rigid, and bluesy — albeit in a non-traditional way" and critic Andrew Gilbert of KQED's The California Report recently named the group a Top Local Band to Watch in 2014: "(Clevenger) makes brilliant use of the many colors at his disposal." Beyond his work with his eponymous group, Nathan has also written for a variety of smaller ensembles, played jazz standards, and served as a sideman/collaborator with Bay Area luminaries such as Aaron Novik, Karl Evangelista and Phillip Greenlief.
LISTEN
CD Review: KQED's The California Report
VIDEO