Tuesday, January 29, 2019: 6:30 PM
American Composers Forum, Meet-up and Residency Info. Session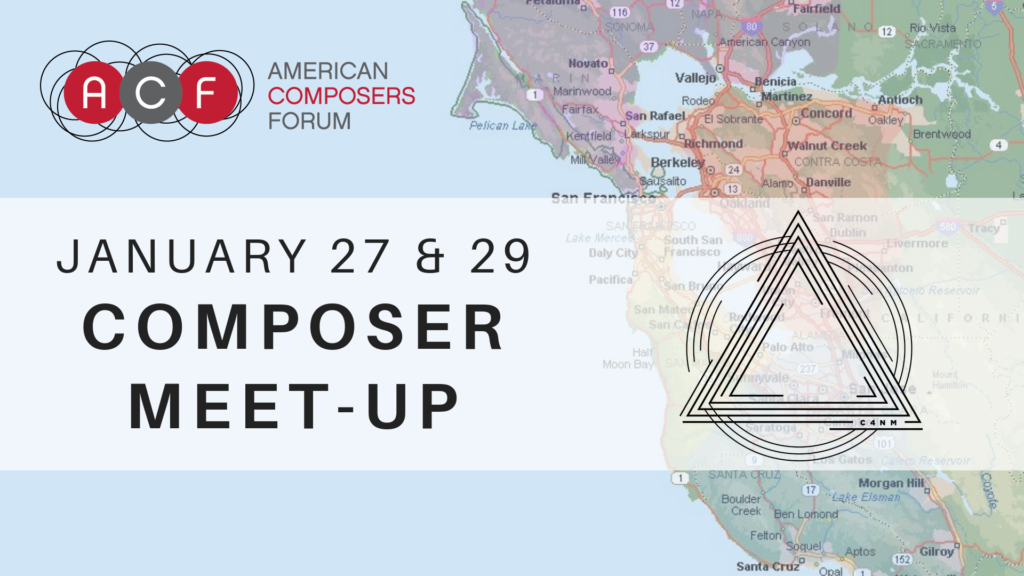 In keeping with our mission to nurture the creative spirit of composers and communities, ACF is pleased to launch a new Composer Residency for the Bay Area, in partnership with the Center for New Music. In advance of this new program, ACF staff will be in town to host a composer meet-up in January! Please join us in San Francisco on January 29th for food and drink, to connect with your colleagues, and to get more information about how to apply for the upcoming Composer Residency.
_______
What is this new program?
This coming summer, one San Francisco Bay Area composer will be selected to receive $10,000 for the design, coordination, and production of a residency project that begins after September 1, 2019 and ends by March 1, 2021.
This is an opportunity for you to design and lead a local project, in which you are the composer-in-residence. If you create original music/sonic material and have a project idea, we encourage you to apply! The application portal will open on April 1st, but don't wait until then! Start planning your project now and read details on our website.
https://composersforum.org/programs/acf-composer-residency-bay-area/
________
The American Composers Forum is committed to supporting composers and developing new markets for their music. Through granting, commissioning, and performance programs, ACF provides composers at all stages of their careers with valuable resources for professional and artistic development. By linking communities with composers and performers, ACF fosters a demand for new music, enriches communities, and helps develop the next generation of composers, musicians, and music patrons.