Saturday, September 10, 2016: 6 PM / 7 PM talk
Acoustic Habitats: Visual Scores of the SF Bay Area // FREE Opening Reception for the Visual Exposition
Tickets: Free!
Tickets available at the door only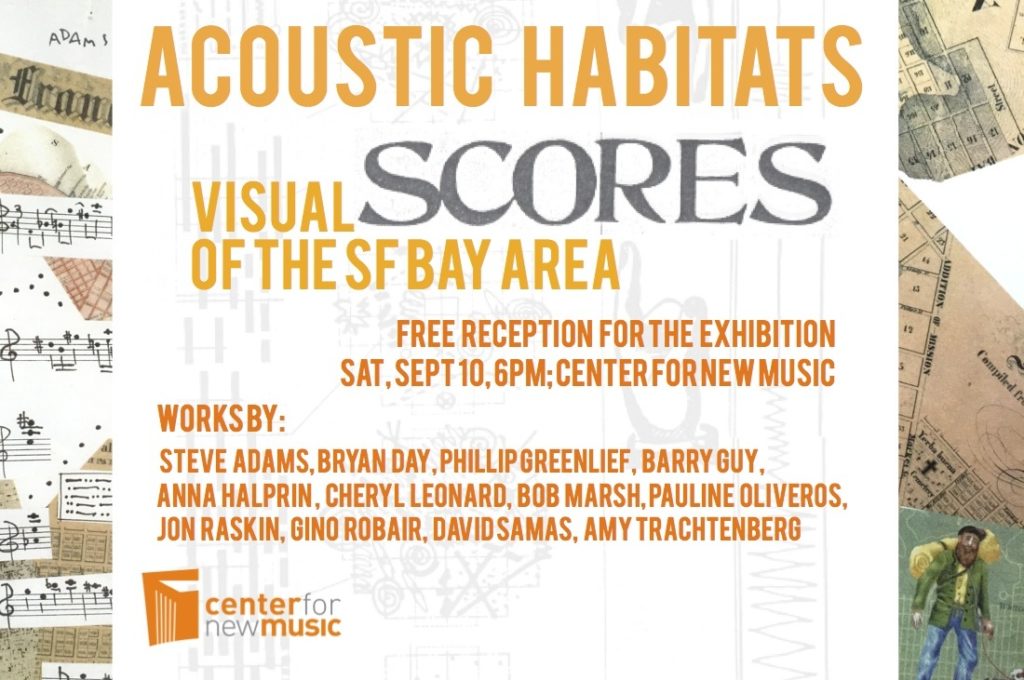 FREE Opening Reception & Discussion for the visual exposition
On display Sept-Dec, 2016
@ Center for New Music, 55 Taylor st. SF
Acoustic Habitats:
Visual Scores of the SF Bay Area
Works by:
Steve Adams
Bryan Day
Phillip Greenlief
Barry Guy
Anna Halprin
Cheryl Leonard
Bob Marsh
Pauline Oliveros
Jon Raskin
Gino Robair
David Samas
Amy Trachtenberg
7pm FREE Pannel Discusion 
With: Dena Beard, Executive Director at the Lab
Anna Halprin
and composer/performers
Jon Raskin and Steve Adams of ROVA
Gino Robair
and Phillip Greenlief
About Acoustic Habitats
We live in a sonic environment which is not easily notated on staff paper. In this exhibit we explore graphic scores from living Bay Area artists whose work reflects a sensitivity to this place and a deeper conversation with the local social, spiritual and environmental landscapes.
As a result of the interdisciplinary skill and creativity of contemporary performing artists, graphic notation and visual score-making have become prevalent both in new music and dance. Many composers have become less fixated with expectations of what sounds/actions are made and more concern themselves with how or why actions/sounds are made. Often these composers and performers come from a strong background in free improvisation.
Coded within the visual information, more or less subjectively, are the symbols that the dancer/musician must re-express into space and time as music and movement. To navigate this novel realm requires a map that is often site specific; often games or strategies are employed to create this self composing material and ultimately, these artists compose their own acoustic habitats.
-David Samas
Curator, the Window Gallery @ the Center for New Music San Francisco